Polk sheriff: DUI, hit-and-run suspect was illegally living in U.S.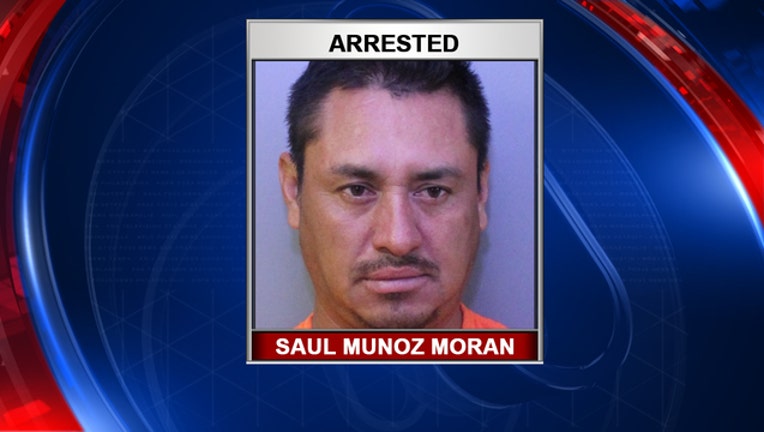 article
BARTOW (FOX 13) - An illegal immigrant was arrested for DUI after crashing and fleeing from an accident, detectives say.
On Saturday, deputies with the Polk County Sheriff's Office arrested a man who identified himself as 38-year-old Saul Munoz Moran, but deputies said it was an alias, and his real name is Fernando Camacho Perez.
Deputies learned of the hit-and-run accident around 10:07 p.m. when Moran's pickup truck was seen swerving, according to the agency. A witness provided a tag number and location updates. The collision occurred when Moran struck the rear of a car that was stopped at a red light at U.S. Highway 60 East and Alturas Road.
Deputies said that witness stopped to help the victim and Moran drove away. The driver who was hit was not injured.
Deputies located Moran after conducting a traffic stop at Highway 60 and Prairie Mine Road in Mulberry. According to the sheriff's office, Moran told them he was heading home and recently drank a 6-pack of beer. He almost denied being involved in a crash.
The agency said he failed a field-sobriety test and refused to provide a breath sample at the Polk County Jail. He also told them he didn't have a license that could be suspended, according to a media release. 
"There is no regard for the law or even for human life with this person," Polk County Sheriff Grady Judd said in a statement. "He's a danger to everyone, and we're going to do everything we can to keep him off of Polk County roads." 
Moran faces several charges including DUI, no valid driver's license, and leaving the scene of a crash. The U.S. Immigration and Customs Enforcement is also involved due to illegally residing in the country, deputies said. The agency said he is originally from Mexico.