Sabra Hummus voluntarily recalled over listeria concerns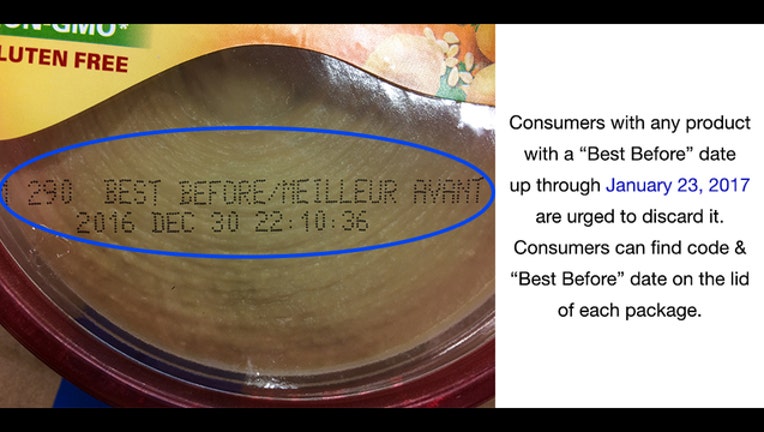 article
The company that makes Sabra hummus is voluntarily recalling certain hummus products due to concerns of Listeria monocytogenes.
Sabra Dipping Co., LLC says the Listeria organism was identified at a manufacturing facility, but was not in tested finished products, according to a company-issued press release.
Listeria monocytogenes is an organism, which can cause serious and sometimes fatal infections in young children, frail or elderly people, and others with weakened immune systems. Healthy individuals may suffer only short-term symptoms such as high fever, severe headaches, stiffness, nausea, abdominal pain and diarrhea. Listeria infection can cause miscarriages and stillbirths among pregnant women. 
The recall affects hummus products with a "best before" date before and through January 23, 2017. The "best before" date can be located on the lid of each package. An example is shown in the photo above.
Other Sabra products, including organic hummus, salsa, guacamole, and greek yogurt dips, were not included.
Sabra Dipping Co. is urging customers to discard the recalled product.
Consumers can contact Sabra Consumer Relations at 1-866-265-6761 for additional information from 9:00 am to 8:00 PM eastern time. For product reimbursement, consumers can contact www.sabrahummusrecall.com. 
The recall is being conducted with the knowledge of the U.S. Food and Drug Administration.
--
LIST OF RECALLED PRODUCTS:
UPC - SKU - Item
040822014700 - 300051 - Sabra Hummus Caramelized Onion 10oz
040822000017 - 300066 - Sabra Hummus Classic 7oz
040822011143 - 300067 - Sabra Hummus Classic 10oz
040822017497 - 300070 - Sabra Hummus Classic 17oz
040822014687 - 300074 - Sabra Hummus Classic 30oz
040822431156 - 300076 - Sabra Hummus Classic 5lb – 6ct
040822011112 - 300079 - Sabra Hummus Classic 2oz – 48ct: 3 x (16 x 2oz)
040822011952 - 300080 - Sabra Hummus Classic with pretzels 4.56oz
040822011235 - 300094 - Sabra Hummus Garlic 7oz
040822011242 - 300095 - Sabra Hummus Garlic 10oz
040822017510 - 300097 - Sabra Hummus Garlic 17oz
040822012256 - 300099 - Sabra Hummus Garlic 32oz
040822301121 - 300100 - Sabra Hummus Garlic 30oz
040822011990 - 300104 - Sabra Hummus Garlic with pretzels 4.56oz
040822011921 - 300106 - Sabra Hummus Jalapeno 10oz
040822011341 - 300117 - Sabra Hummus Olive 10oz
040822011747 - 300132 - Sabra Hummus Pine Nut 10oz
040822127530 - 300134 - Sabra Hummus Pine Nut 7oz
040822990011 - 300136 - Sabra Hummus Pine Nut 17oz
040822012157 - 300139 - Sabra Hummus Pine Nut 32oz
040822012430 - 300142 - Sabra Hummus Red Pepper 7oz
040822011549 - 300143 - Sabra Hummus Red Pepper 10oz
040822017503 - 300146 - Sabra Hummus Red Pepper 17oz
040822328647 - 300148 - Sabra Hummus Red Pepper 32oz
040822301114 - 300150 - Sabra Hummus Red Pepper 30oz
040822434553 - 300151 - Sabra Hummus Red Pepper 5lb – 6ct
040822011969 - 300153 - Sabra Hummus Red Pepper with pretzels 4.56oz
040822011433 - 300158 - Sabra Hummus Supremely Spicy 7oz
040822011440 - 300159 - Sabra Hummus Supremely Spicy 10oz
040822017558 - 300161 - Sabra Hummus Supremely Spicy 17oz
040822027540 - 300164 - Sabra Hummus Spinach & Artichoke 10oz
040822014731 - 300166 - Sabra Hummus Sun Dried Tomato 10oz
040822027700 - 300266 - Sabra Hummus Spinach & Artichoke 32oz
040822027588 - 300298 - Sabra Hummus Spinach & Artichoke 17oz
040822990011 - 300501 - Sabra Hummus Pine Nut 17oz – 6ct
040822017503 - 300502 - Sabra Hummus Red Pepper 17oz – 6ct
040822020114 - 300593 - Sabra Hummus Basil-Pesto 10oz
040822330466 - 300736 - Sabra Hummus Tuscan Herb Garden 32oz
040822342049 - 301216 - Sabra Hummus Classic 32oz
040822342131 - 301271 - Sabra Hummus Classic with pretzels 4.56oz – 8ct
040822342209 - 301283 - Sabra Hummus Garlic 23.5oz
040822017497 - 301290 - Sabra Hummus Classic 17oz
040822342506 - 301430 - Sabra Hummus Bold & Spicy with tortilla chips 4.56oz
040822017510 - 301480 - Sabra Hummus Garlic 17oz – 6ct
040822342728 - 301481 - Sabra Hummus Classic 2oz – 6 x 2oz (12 x 6pks)
040822011648 - 301483 - Sabra Hummus Lemon 10oz
040822342735 - 301484 - Sabra Hummus Red Pepper 2oz – 6 x 2oz (12 x 6pks)
040822330381 - 301485 - Sabra Hummus Tuscan Herb Garden 17oz
040822010078 - 301511 - Sabra Hummus Classic 2oz – 16 x 2oz – 12 ct
040822010047 - 301512 - Sabra Hummus Classic 2oz – 12 x 2oz – 12 ct
040822342988 - 301566 - Sabra Hummus SF Rosemary/Sea Salt 10oz
040822343145 - 301585 - Sabra Spreads Spicy Chili 8.5oz – 8ct
040822343138 - 301586 - Sabra Spreads Garlic Herb 8.5oz – 8ct
040822343121 - 301587 - Sabra Spreads Honey Mustard 8.5oz – 8ct
040822343114 - 301588 - Sabra Spreads Salt & Pepper 8.5oz – 8ct
040822343671 - 301640 - Sabra Hummus Taco 10oz
040822344043 - 301705 - Sabra Hummus 3 Pepper Chili 10oz