St. Pete SunRunner passengers to pay fare after complaints of homeless riders
ST. PETERSBURG, Fla. - The SunRunner, the bus that shuttles riders between downtown St. Pete and St. Pete Beach, has been free since it launched last October, but the days of getting a free ride are coming to en end. .
Beginning Oct. 1 riders will have to start paying $2.25, one month before there was supposed to be a fare.
PSTA's board of directors approved the fare at its meeting Wednesday after an outcry from St. Pete Beach residents and the Pinellas County sheriff about the increase in homeless riders who they say are causing issues at the beach.
"They [shoppers] were being accosted," Pinellas Sheriff Bob Gualtieri explained. "They were being hit up. They were being harassed. We started getting complaints about people sleeping on the beach. We're getting complaints from families that this is not OK. As you're walking down the beach access and there are showers there where you can rinse off your feet when you come off the sand, and there are people there naked, urinating and defecating when they're trying to take their kids off the beach. That's not OK. So, it was a huge quality of life and public safety issue."
PREVIOUS: Fare-free SunRunner could end sooner than planned due to increase in homeless riders
Sheriff Gualtieri told PSTA's board at the meeting these issues started in March and coincided with the launch of the fare-free SunRunner. 
"We're getting complaints from the tourists. St. Pete Beach is a tourism-driven economy. Pinellas County is a tourism-driven economy and this is not good," the sheriff said.
According to Gualtieri, from March through July 2022 compared to March through July 2023, those calls for service jumped from 20 to 127.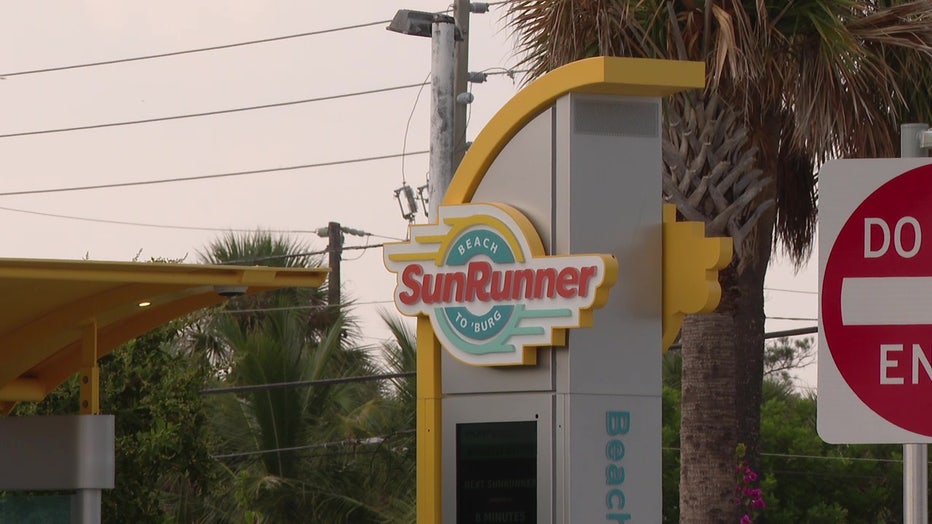 Calls for service at the county's public beach access during that same timeframe jumped 384 percent. Thefts reported in St. Pete Beach have increased by 110 percent, the sheriff said. 
"St. Pete Beach overall is a safe place. This is social crime. People shouldn't live like this. You all have to do something. We have to do something about it," he told the board.
READ: Tampa unveils 100 tiny homes to help homeless with transitional housing
Due to the increased calls for service and reports of crimes, deputies were sent to patrol the SunRunner's beach stops on July 25. PSTA also hired a security detail.
Since then, deputies have made 52 arrests, issued 132 trespass warnings, conducted 90 field interviews and issued 32 ordinance violations, according to the Pinellas County Sheriff's Office.
"The only way we have to solve these problems with this group is with enforcement, and that's back to criminalizing homelessness and that's not right. That's not good. That doesn't solve anything," Gualtieri said.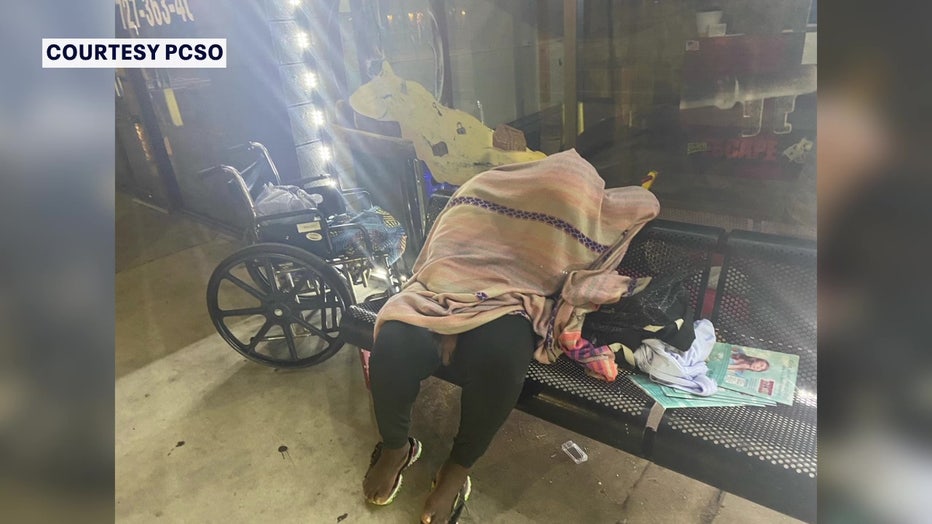 Gualtieri said it's a group of homeless riders who don't want any help causing the issues.
"I've been actively involved for the last 15 years in finding solutions to the chronic and unsheltered homelessness population problem in Pinellas County. There is no other law enforcement agency or head in this country that has made the effort that I have, or we have to find solutions to this problem. I challenge anyone to find another law enforcement agency in this country that is the largest provider of homeless services in its community," the sheriff said.
Gualtieri also noted that the number of homeless individuals across the county is down from 2,346 in 2018, 417 of which were chronically homeless, to 2,144 in 2023, 204 of which were chronically homeless.
READ: St. Pete fire chief reinstated after allegations of bullying, discrimination
"This isn't about the general homeless. This is about the chronic homeless who are usually involved in criminal justice. This is a subset, but it isn't just one or two people. I mean, there's a significant number of people that are in this group that are going out there and doing these things," the sheriff said. "It's not OK to urinate in public. It's not ok to defecate in public. It's not OK to shower naked in front of kids. It's not OK to sleep in places where you shouldn't and harass people. So, you know, this is not good for the community, and we need to make sure that the quality of life gets back to where it needs to be for the residences, for businesses and for tourism in St. Pete Beach," Gualtieri said.
The sheriff said the patrols at the beach cost $10,000 a week and that it's not sustainable. He said the only solution is to charge a fare.
On Monday, a 50-cent fee for beach-bound buses only was supposed to go into effect, but board members said last week they wanted to discuss things further.
Board member Vince Cocks said he thinks the 50-cent fee would've been like redlining, targeting the homeless.
Over the course of three and a half hours Wednesday, residents, PSTA's union members and PSTA's board members debated what to do about the issue.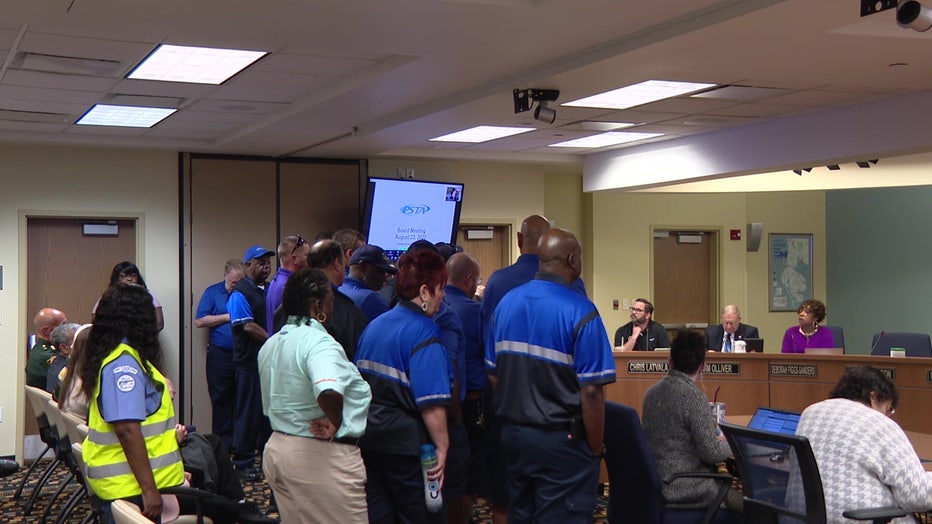 "We've got crime in St. Pete Beach," St. Pete Beach resident Lisa Robinson said. "It's a direct result of this," she said, talking about the SunRunner.
"They're coming into private property, which is trespassing and that is a crime, urinating, defecating. People are sleeping, passed out in our laundry room and pool areas," another resident said.
READ: Woman struck, killed by lightning on Sand Key in Clearwater, first responders say
Some residents said they've always felt safe in St. Pete Beach but haven't over the past few months. Other members of the public urged the board to keep the SunRunner fare-free.
"We don't punish people who ride our SunRunner for the behavior of a few," Kathleen Beckman, Chair of Pinellas Continuum of Care's Executive Committee, said.
"We do believe fares will resolve some of this, but you guys are in a tough spot," April Murphy, a representative for PSTA's union, said.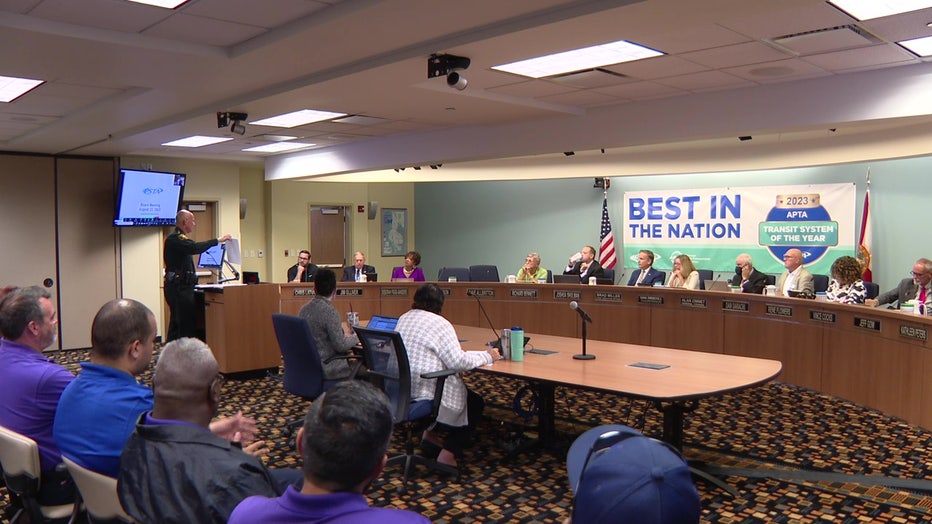 Some speakers noted that PSTA has programs to help those who can't afford fares and said vouchers could be given for those who can't afford public transportation but are utilizing the SunRunner for the right reasons.
Some board members pointed out giving free rides doesn't make sense when PSTA is in budget talks right now and may cut certain routes. PSTA CEO Brad Miller said it's estimated they'll see a 20 percent drop in ridership by implementing the fare.
WATCH: Neighbor arrested after injecting chemical into Bay Area family's front door: Video
Actions this board has taken have created issues for the City of St. Pete Beach and we have to make a decision here today," Commissioner Brian Scott said. "To let this go for another 60-plus days is not fair to the residents of St. Pete Beach. It's not fair to the business owners down there. It's not fair to the tourists and certainly not to the sheriff," Scott said.
Scott motioned to charge the full fare of $2.25 starting Sept. 15. Commissioner Chris Latvala seconded the motion, but it failed in an eight to six vote.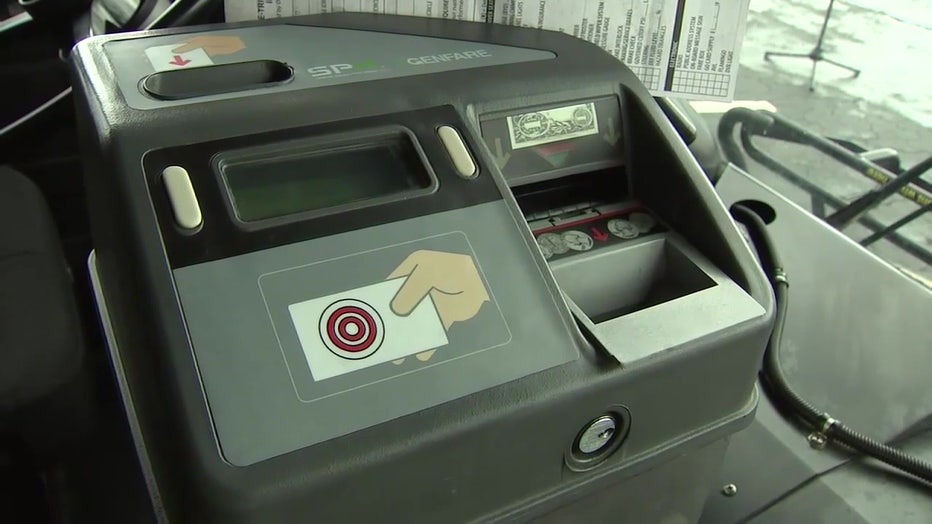 "I don't want homeowners to feel uncomfortable when they come outside their homes," Council Member Deborah Figgs-Sanders said. "I don't want to feel uncomfortable when I come outside of mine, but when I heard it was a St. Pete Beach issue, the first thing that came to my mind was, 'So does that mean other communities in the city of St. Petersburg have the same privilege and the right and the honor to come before PSTA and demand a service for their communities," she said.
"Does that make it right? Does that open that door of opportunity for other organizations to come here and tell us just what we need to do," Figgs-Sanders said.
Some board members also mentioned that St. Pete residents are some of the only ones in the county who don't pay property taxes to support the transit authority.
Commissioner Rene Flowers proposed a motion to implement a $2.25 fare starting Oct. 1. She also said PSTA would meet with the PCSO, St. Pete Police Department's CALL program and mental health resources in the community to discuss a "more thoughtful long-term solution."
READ: St. Petersburg police investigating rise in car thefts
The motion passed in a 12 to two vote.
"It's not tolerable for the community out there. It's too much adverse impact. It hurts the residents, businesses and tourism. And so, we've got to solve this, and I think that's going to make a significant difference," Gualtieri said about the new fare.
"I'm willing to spend the $10,000 a week for a limited period of time, to be collaborative, to be a team player and to really provide a resolution to this. Wait until November first. My question for you all is where do I send the bill for the $10,000 a week," Gualtieri said before the board's vote.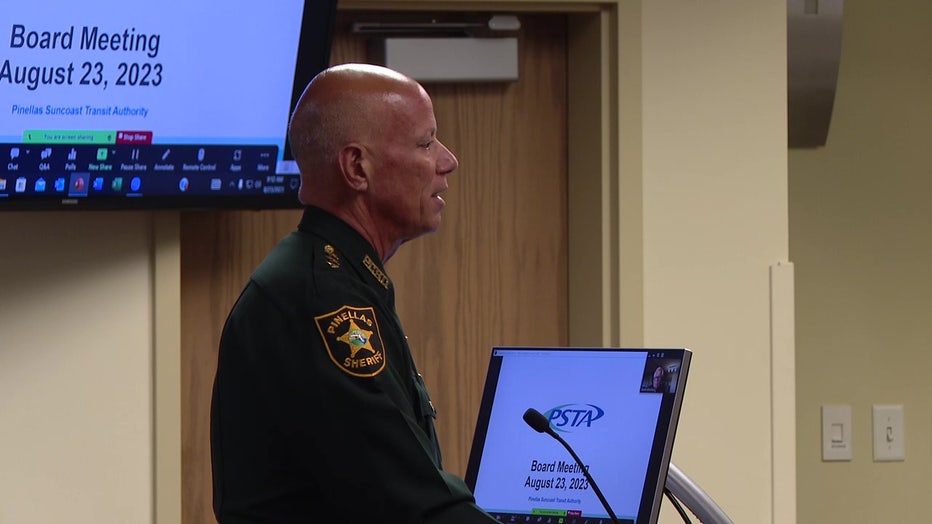 Chairperson Gina Driscoll was one of two votes against the decision.
"I don't want to punish thousands and thousands, almost a million riders for what a small group is doing that doesn't have good intentions or that really, really needs help," she said.
Driscoll said they need more time to collaborate with other groups on a long-term solution.
"It's a complex problem. It's not going to be solved overnight," she said.
READ: St. Pete's CALL Program serves more than 3,000 people in first year, city council extends program
Figgs-Sanders was the other vote against the motion.
St. Pete Beach's City Manager, Alex Rey, also spoke during the meeting.
He said tourists have been complaining about the homeless individuals and have said they're very aggressive. Rey said the SunRunner was a good idea, but it's now counterproductive and residents don't want to ride it because they're uncomfortable.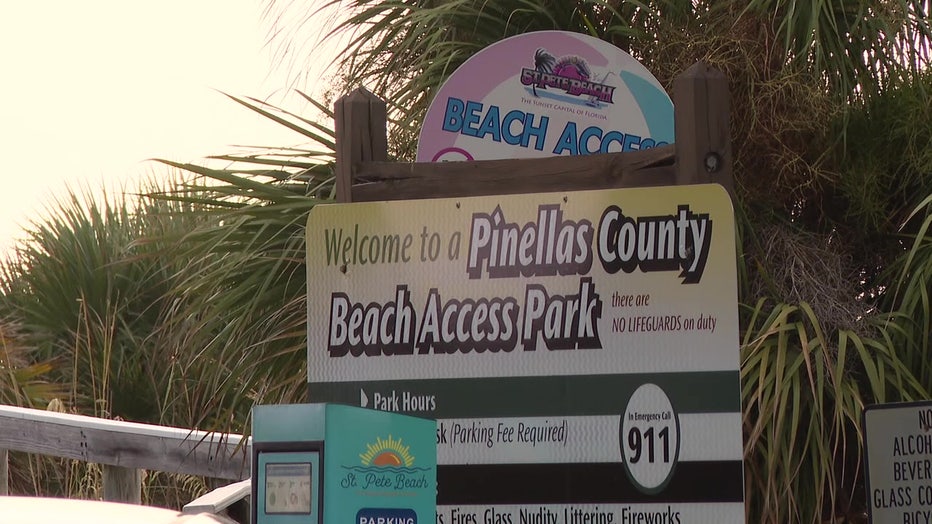 Dr. Monika Alesnik, CEO of the Homeless Leadership Alliance of Pinellas, said while she's not in favor of the fare, it's better than the 50-cent fee for beach-bound buses only that was supposed to go into effect this past Monday. She said that unfairly targeted homeless individuals.
"Making the increase fair and across the board is definitely what we would expect in being equitable for all and not just focusing on a homeless population, which this [the 50-cent fee] clearly was," she said. "I love taking the SunRunner. I'm lucky I have $2.50, but not everybody has $2.50," she said.
READ: Self-proclaimed neo-Nazi arrested for plotting to blow up Maryland power grid
St. Pete Mayor Ken Welch allotted money in his 2024 budget to keep the SunRunner free. PSTA board members questioned what will now happen with that. 
Miller said they'd have to reconvene and talk with Welch.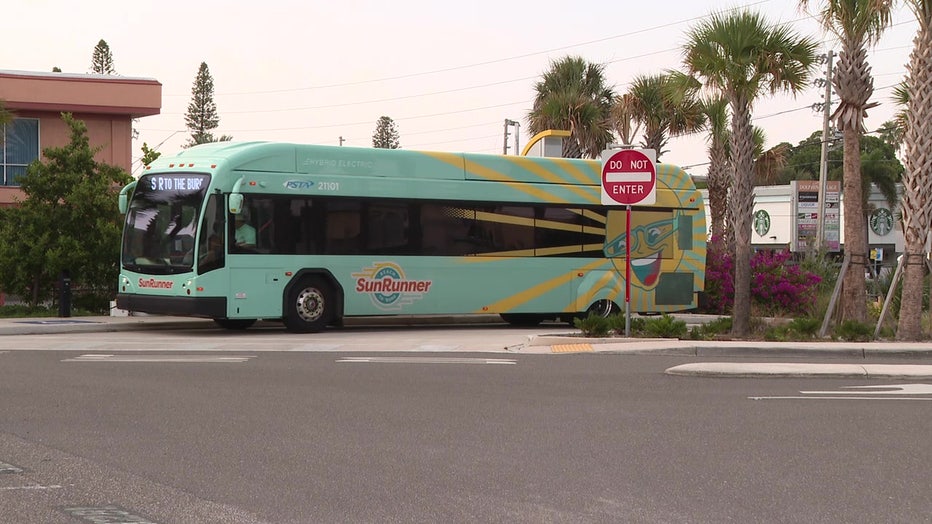 On Tuesday night, in a letter to Miller and the PSTA board, Welch wrote, "We support identifying any challenges facing SunRunner operations and fair ways to deal with those issues. However, the City will not be in a position to fund inequity. Accordingly, if PSTA decides to charge a fee to ride only a portion of the route, we will not move forward with a fare buy-down agreement."
"Additionally, if PSTA chooses to implement a nominal fare or decides on any policy that makes it harder for certain groups to ride while favoring other groups, we will not participate. We sincerely hope that PSTA will favorably consider accepting our offer to buy down fares to extend the zero-fare program on SunRunner beyond November 1, 2023, and work with PCSO to identify and implement more effective and equitable solutions to address any concerns raised," Welch's letter continued.
Fox 13 reached out to the mayor's office for a comment and didn't immediately hear back.