Tampa looks to fill lifeguard shortage before Summer
TAMPA, Fla. - Taking a dive into a local parks and recreation center's pool may look a little different if more lifeguards aren't hired. 
Nationwide pools like Roy Jenkins Pool on Davis Islands have had to cut hours or programming due to lower staffing. Although, Peggy Lenny, the City of Tampa's parks and recreations aquatic supervisor, said there isn't a concrete reason behind why so many are getting out of the profession.
"There's been a national lifeguard shortage all through the United States," Lenny said. "We really can't put our finger on what it is." 
READ: Tampa Electric, Duke Energy propose rate hikes for customers after impacts from two hurricanes in 2022
The City of Tampa is now making it as simple as showing up for a swim test and an interview. From there it all comes with training, one lap around the pool at a time. 
"We'll train you to be a lifeguard. It's an amazing job, and today you can see why it's such an amazing and fun thing to do is to be a lifeguard," Lenny said.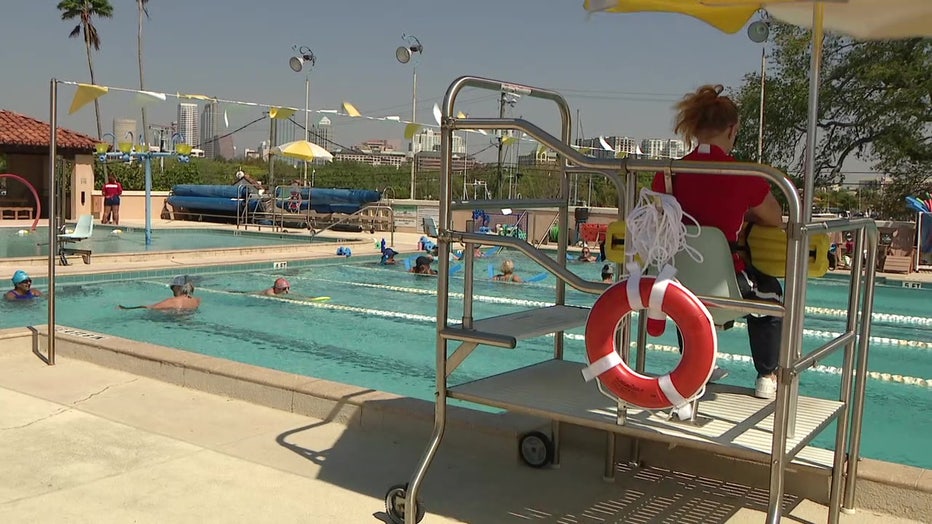 When the summer comes along, the parks and recreations department hires more than 90 new employees to keep pools safe and ready for all the summer swimmers. 
MORE: Spring Break season expected to bring record number of travelers to TPA
For lifeguards like Scott Mitter, being up on the stand for over a decade has allowed him to grow with the community. 
"I've seen children from six years old all the way up to now about 16, 17, and they are becoming my lifeguards," Mitter said. "The same kids I've seen and I taught swim lessons to when they were little, I'm seeing them in swim teams, I'm seeing them in high school and now they're guarding me."
If you are interested in becoming a lifeguard in Tampa, click here.