Trader Joe's, Whole Foods recall: Salads, carnitas may be contaminated with Listeria or salmonella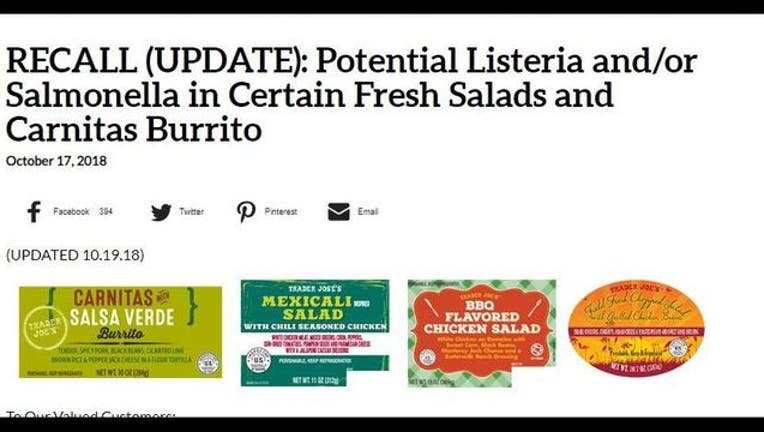 article
OAKLAND, Calif. - Seven salads and a carnitas dish at Trader Joe's and Whole Foods Market have been recalled this week because of potential contamination of ingredients.
Salads with chicken were recalled because of salmonella and listeria risk associated with a corn ingredient. The specific products have "best by" dates of Oct. 15 through 20.
The problem was noticed on Oct. 16, Whole Foods said in a news release.
Whole Foods stores in California received the items, but Trader Joe's says its California stores did not. The Trader Joe's stores affected by the salad recall are in Oregon, Washington, Idaho, Colorado, New Mexico, Texas, Louisiana and Tennessee.
The Carnitas with Salsa Verde burrito was one of a reported 800,000 pounds of products that were recalled because of possible salmonella or listeria contamination caused by onions. Most of the other products in that recall were certain burritos and pizzas sold by the Southeast grocery chain Harris Teeter, Bay Area News Group reported.
Trader Joe's said no contamination has been confirmed and no illnesses have been reported to date and that all of the potentially affected products have been removed from sale and destroyed.
Customers who purchased any of these products,should not eat them. Trader Joe's will give full refunds.
The recalled salads are: 
Trader Joe's BBQ Flavored Chicken Salad
Trader Joe's Field Fresh Chopped Salad with Grilled Chicken Breast
Trader Joe's Mexicali Inspired Salad With Chili Seasoned Chicken
Trader Joe's Carnitas with Salsa Verde Burrito
365 by Whole Foods Market BBQ Style Chopped Salad With Chicken
365 by Whole Foods Market Chicken Fajita Salad
Santa Fe Style Salad with Chicken at Whole Foods
BBQ Style Salad Kit with White Chicken at Whole Foods