Triple-murder suspects on the loose; sheriff warns public: 'stay alert'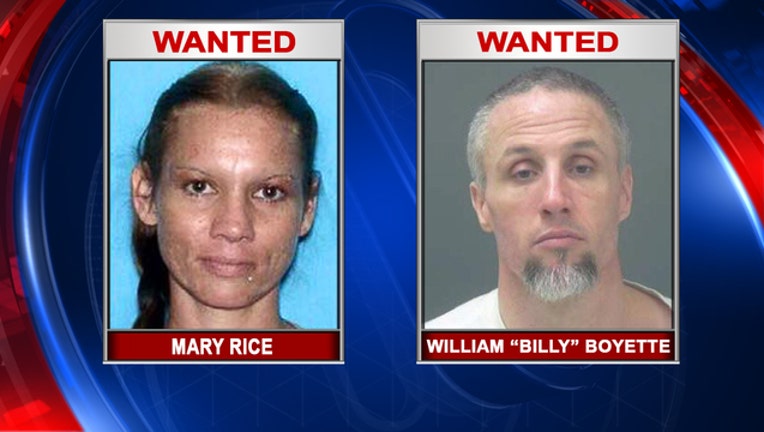 article
PENSACOLA (AP) - A Florida Panhandle sheriff's office has doubled the number of deputies on patrol as a multi-state search enters its second week for a man and woman suspected in the deaths of three women and the attempted death of a fourth.
On Monday afternoon, Escambia County Sheriff's Office Chief Deputy Chip Simmons warned the public to be on the lookout for William "Billy" Boyette, 44, and Mary Rice, 37, who are suspected of shooting a young mother during a home invasion near Pensacola on Monday, and taking her car.
"In short we have a killer, he is in our midst . everyone, and I mean everyone, should be aware of this, should be aware of what they look like," Simmons said.

Boyette and Rice are also suspected in the deaths of Alicia Greer, 30, and Jacqueline Jeanette Moore, 39, whose bodies were found at the Emerald Sands Inn in nearby Milton on Jan. 31, and the death of Peggy Broz in Lillian, Alabama, on Friday. Investigators said the two also stole Broz' car.
Agencies across the Panhandle and southern Alabama are searching for Boyette and Rice, who had previously been considered a person of interest in the attacks. On Monday she was upgraded to an official suspect. Authorities said she had multiple chances to flee or ask for help. She has been spotted on surveillance video entering stores on her own.

On Monday morning, the mother of Kayla Crocker went to check on her after the 28-year-old woman didn't show up for work. She found Crocker with a gunshot wound. Her 2-year-old son was not injured, sheriff's officials said.

Crocker's white Chevrolet Cobalt was stolen and Sheriff David Morgan told local news outlets that video surveillance confirmed Boyette and Rice took the car to a nearby Shell station and ate at a Hardee's restaurant a short time after the attack.

Morgan said Boyette has a history of drug trafficking and is known to be a heavy user of the drug Spice.

He said his agency has been "chasing a lot of shadows and a lot of rumors" in the search for the pair. He warned residents to stay alert.
"When you go to work, when you come home, make sure a friend or family member knows where you are ..., " Morgan said. He added that while the measures may seem extreme, "we're dealing with an extreme situation here."