Trump accepts Nikki Haley's resignation as UN ambassador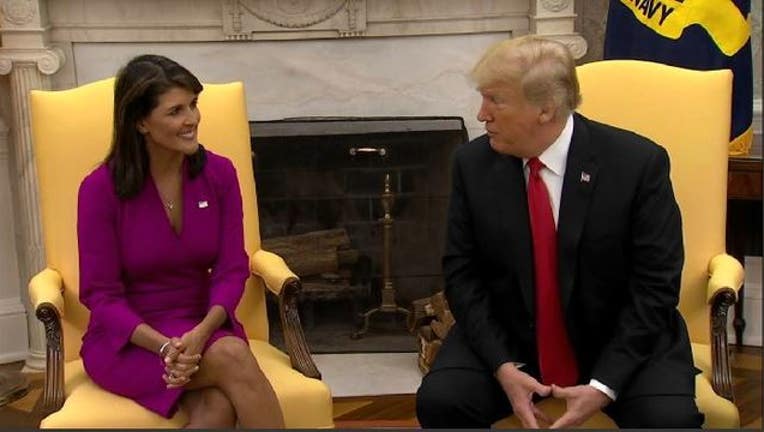 article
WASHINGTON - President Trump accepted Nikki Haley's resignation as UN ambassador Monday morning. She will leave the administration "at the end of they year."
He called Haley a "very special" person, adding that she told him six months ago that she might want to take some time off. Trump said that together, they had "solved a lot of problems."
Trump tweeted Monday morning about the "big announcement" with Haley in the Oval Office. It's unclear why Haley resigned. 
Last month Haley wrote an op-ed in The Washington Post discussing her policy disagreements but also her pride in working for Trump. It came in response to an anonymous essay in The New York Times by a senior administration official that alleged there to be a secret "resistance" effort from the right in Trump's administration and that there were internal discussions of invoking the 25th amendment to remove Trump from office.
"I proudly serve in this administration, and I enthusiastically support most of its decisions and the direction it is taking the country," Haley wrote. "But I don't agree with the president on everything."
Haley was confirmed as U.N. Ambassador four days after Trump was inaugurated in January 2017. 
Before she was named by Trump to her U.N. post, Haley was governor of South Carolina, the first woman to hold the post. She was re-elected in 2014.
As governor, she developed a national reputation as a racial conciliator who led the charge to bring down the Confederate flag at the Statehouse and guided South Carolina through one of its darkest moments, the massacre at a black church.
The Associated Press and FOX News contributed to this report.