The Tunnel to Towers Foundation is making a difference in the lives of veterans and first responders
LAND O'LAKES, Fla. - A U.S. Army veteran left paralyzed from combat is adjusting to his new smart home, thanks to the Tunnel to Towers Foundation. The home is part of the organization's "Let Us Do Good Village" in Land O'Lakes. Two years ago, the organization broke ground to provide a community for veterans and first responders in need. Saturday, they held a special dedication ceremony for the first smart home built in the community for U.S. Army Sergeant First Class Sualauvi Tuimaleali'ifano.

"It'll be a while before I can really grasp it. The house has still yet to be explored. It's amazing. I'm very blessed and very honored by it," Tuimaleali'ifano said.

The Tunnel to Towers Foundation was started after 9/11. Its mission is to "do good" by providing mortgage-free homes to Gold Star and fallen first responder families with young children by building specially-adapted smart homes for catastrophically injured first responders and veterans like Tuimaleali'ifano.
READ: Dozens of Tampa based veterans train for Warrior Games Challenge in California
"These guys can move around in their wheelchairs. They can move around in their prosthetic legs with no impairments. They can take a shower. They can go to the bathroom. They can cook themselves food and dinner and lunch, and they can live an independent life," New York City Fire Department Retired Battalion Commander Jack Oehm said.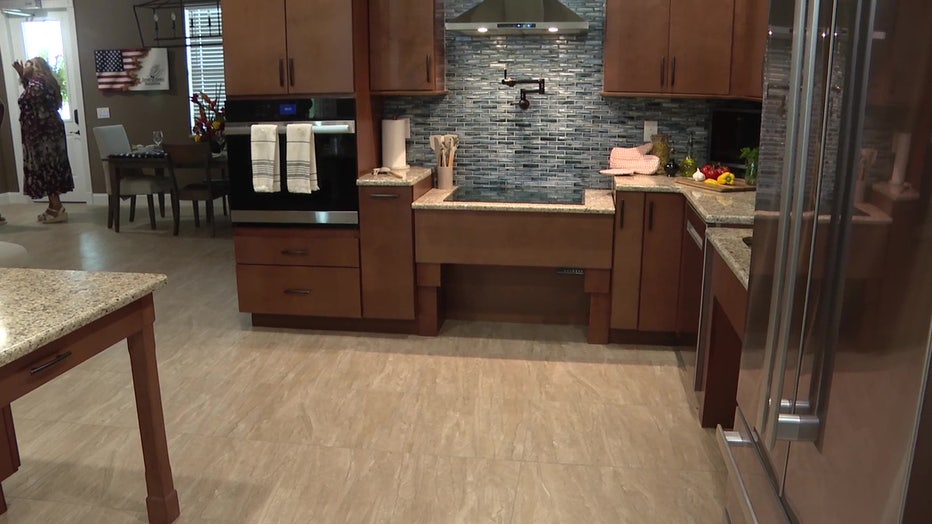 Tuimaleali'ifano's new kitchen complete with lower countertops


The home has automatic doors, wide hallways, and smart technology that can control lightning and the thermostat through a smartphone app. It also features lower counter space in the kitchen and a stove that raises and lowers to wheelchair height.
MORE: U.S. Army veteran finds new purpose through the Wounded Warrior Project

Tuimaleali'ifano, who served three combat tours in Iraq and Afghanistan, was paralyzed from the chest down after being wounded in July 2007, just a month before he was set to return home. Now, home is much more accessible for him and his family.
"I am very happy to be part of it. I am blessed beyond measure. Prayers and everything and faith has been strong on my part, and that's what I always believe in, and I believe this is just part of it," Tuimaleali'ifano said.