USF therapy K9: Mental health crusader strengthens bonds between law enforcement and students
TAMPA, Fla. - Hillsborough County's first law enforcement therapy K9 is helping officers at the University of South Florida connect with students in a new way.
Nicole Marchesano is a USF police officer. She started in a college setting and loves the relationships that she builds with students, faculty, and staff.
"You get the opportunity to be closer in community-oriented policing than anywhere else. You're right, it's like 40-50,000 of your closest family members that get changed out every four years and you get to work with the same people and you get to see the same people and it does feel 100% family-oriented here." Marchesano told Fox 13 News
Being so close with the student body and staff is why the impacts of COVID-19 really hit home for her and the department.
READ: USF professor reflects on living 100 days underwater in record-breaking research mission
"During COVID, people started staying inside their homes and isolated from everyone and our students, faculty, and staff got a lot more depressed and isolated and we started seeing welfare checks and suicide attempts emerging. 100% it was the number of citizen contacts that we made with people that were crying or in some sort of crisis and our suicide attempts and our suicides... on campus and off, we would hear our faculty and students go through that."
Marchesano said.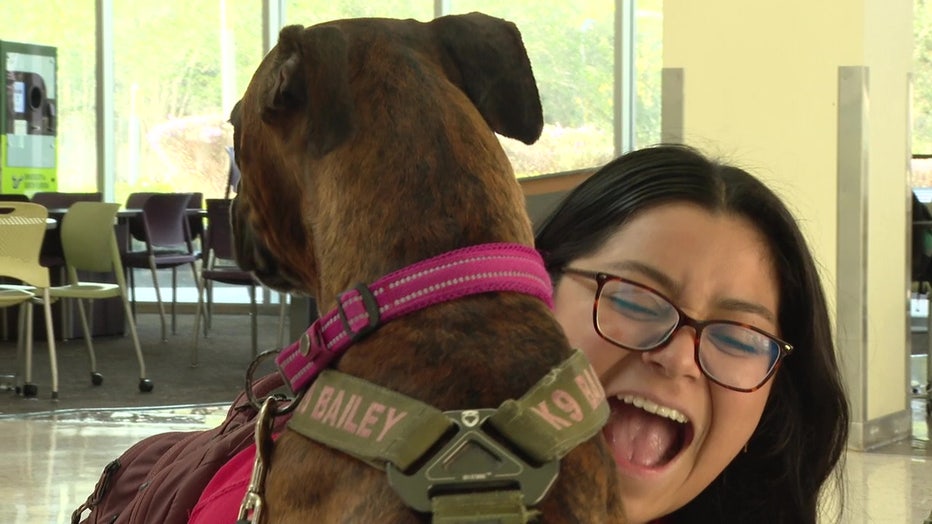 A students smiles with delight as she hugs Bailey. 
Due to the number of calls, Officer Marchesano says she wished that she had more time to spend on each one.
"It was very hard for the average officer to have the time to sit and talk to those people. This community in the fall is loaded, filled with people left and right. The abundance and amount of students...you have to, like any other agency, you have to triage your calls. A lot of times, like the bigger agencies, you go to a call, do the best of your abilities, and go on to your next call," Marchesano explained.
READ: USF board approves $340 million for on-campus football stadium
              
The department knew this was a big issue and with a problem detected, they needed the perfect detective.
"She's like Norm from Cheers. She can go anywhere, outside, inside and you hear 'Bailey'. It doesn't matter what kind of day you're having. I have had people in the community come up to me having the worst day in the world, whether they're taking their third test of the day. Their loved one died. [They] just broke up with their boyfriend or girlfriend, and they're having frustrations. They see her and say, 'I have been having problems all day and my day changed when I saw Bailey,' Marchesano said.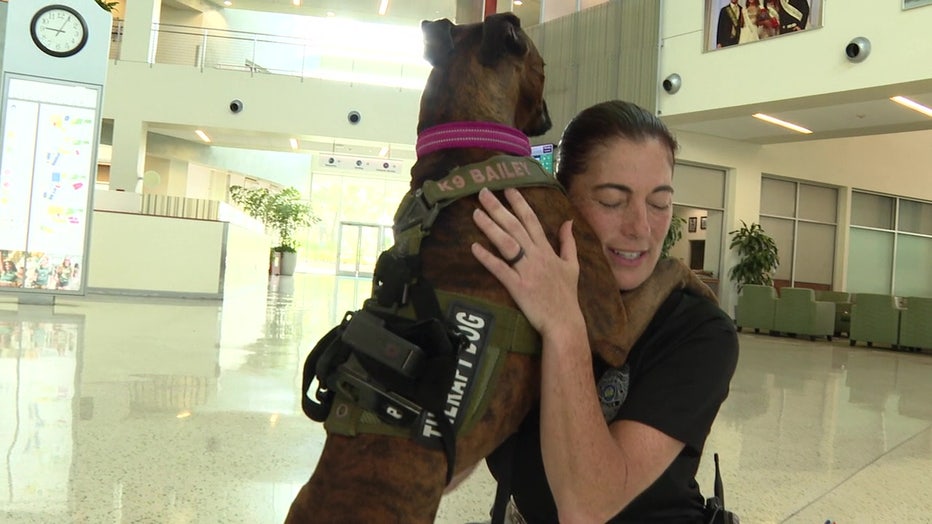 Bailey and Marchesano share a loving moment at USF. 
Bailey is the very first law enforcement therapy K9 in Hillsborough County, acquired from the organization Paws and Stripes.
Certain calls require law enforcement officers to disarm, but Bailey does it without even trying.
READ: USF joins Ivy Leagues as a new member of the AAU
"When you see a law enforcement officer, your first reaction is not necessarily that they're here to help me. A lot of times, the students are scared and nervous. They don't know if they want to share something with someone who looks scary regardless if they have freckles on their face. You bring a dog into the game and it completely changes it - The attitude, the anxiety, and the frustration. The first thing they see is not me, they see PUPPY and they want so bad to talk and play with the puppy. I have had interviews before where they never even looked in my direction. I would literally ask them a question and they would talk directly to Bailey. I said "You know what? If that gets the job done and they're happy at the end, success," Marchesano shared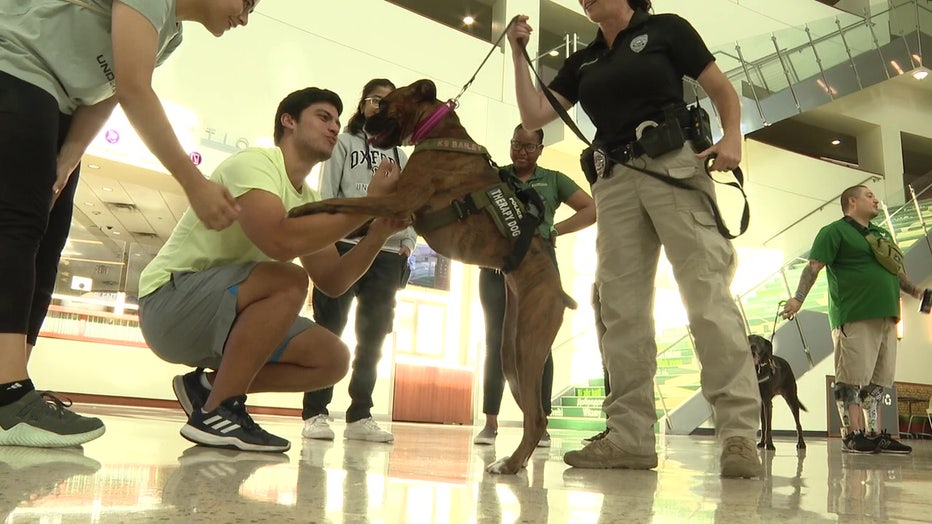 Bailey greets a USF student. 
When Marchesano started as an officer a couple of decades ago, she had no idea this is what she would end up doing, but she's trying to wrap her arms around every moment and never let go.
"When you join law enforcement, there has got to be reasons why you do it. Twenty years strong. I've always said that I want to change someone's life. I want to make a positive impact on someone's life. Bailey helps me fulfill that. She does it all on her own, just being the handler and it is the most positive, happy, and rewarding thing that you can do in this job. You can actually say you have fun at your job. I have so much fun at my job and I love every minute of it," Marchesano said.
READ: USF 'TiP Lab' becomes central database for tracking human trafficking across Florida
Bailey also assists the victims of violent crimes like domestic violence.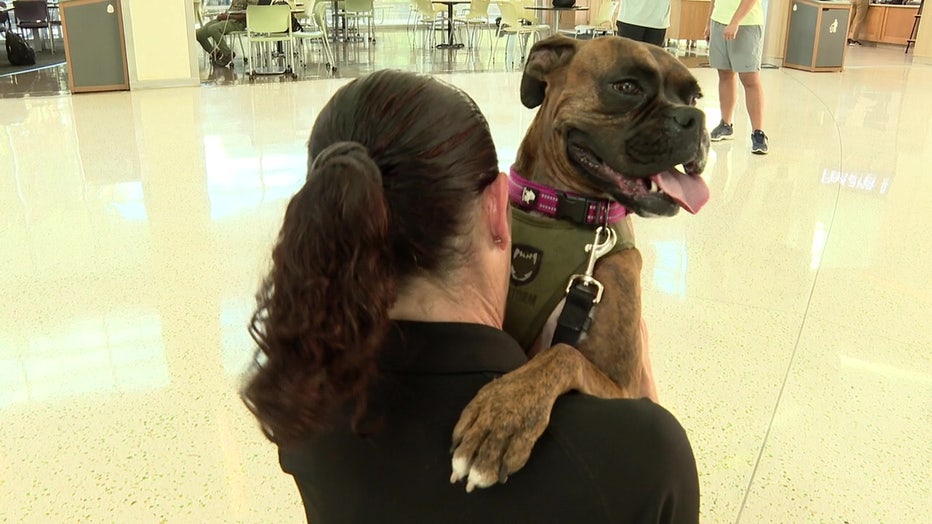 Bailey gets a hug from Marchesano.
Marchesano says that not only has the department seen the calls of mental and emotional distress go down, officers believe that they are able to head off distress before it even elevates to a level of needing intervention.
USF police also created the 'Bailey button' where you can request the therapy dog at any location on campus.
If you have an idea for an Extraordinary Ordinary email Walter Allen at Walter.allen@fox.com or message him on Twitter or Instagram.