Video: HCSO deputy rescues mother, 5 kids from overturned minivan
TAMPA, Fla. - Hillsborough County Sheriff Chad Chronister says the actions of his deputy were nothing short of extraordinary when he helped rescue a mother and her five children trapped inside an overturned minivan. 
Tuesday started off as a busy day for those little ones and their mom, Mindy Bosshart.
"We had vacation bible school in the morning and the girls had rehearsal for a dance recital," said Bosshart, who was on the way home when the crash happened. "So the two lanes closest to me, they had paused so that I can pass, and I was inching out. There was no one there. So, I pull out, and then someone was there."
READ: Tropicana shooting suspect sets missing Bradenton woman free as he remains at large, police say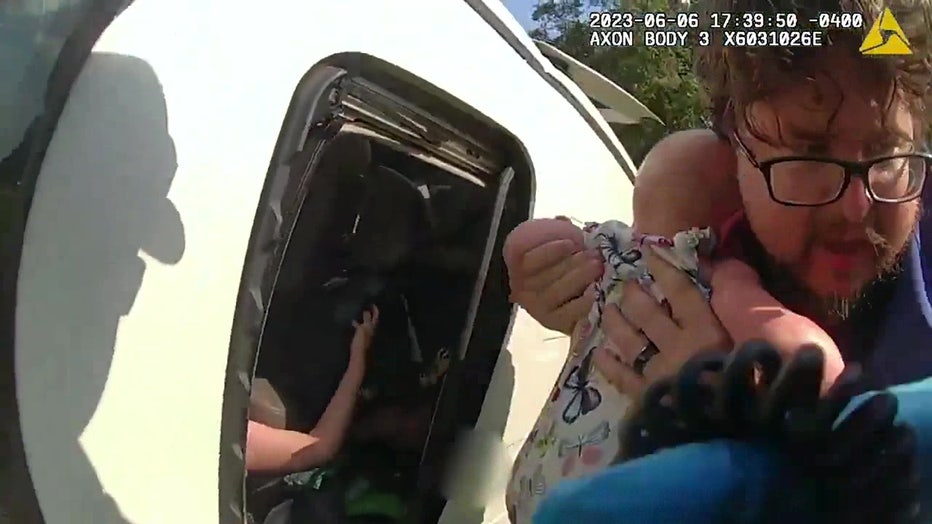 Body cam video shows good Samaritans helping victims after a minvan crashed. 
After Bosshart's minivan flipped on its side, she said her 8-year-old thought fast about how to get out. 
"My son being very clearheaded, he was like, 'Mom, open the sunroof.' So it opened. He was able to climb out," Bosshart said. "I didn't even want to move. I didn't want the car to roll because I could tell. So I stayed put and called 911."
According to HCSO, Sgt. Rizer came across the crash in which good Samaritans were helping victims inside a minivan that rolled over. 
Body camera video shows the distraught mother who had five children with her, but could only locate four. 
HCSO says Sgt. Rizer discovered two small fingers through the sunroof. The agency says he risked his own safety, and removed his vest and equipment belt to crawl into the vehicle, rescuing the last child and ensuring their safety. 
The video shows him recovering a pacifier for one of the distressed children, cleaning it meticulously before returning it. 
In a Facebook post, the agency commended Sgt. Rizer for his actions, stating, "Let's salute Sgt. Rizer for his exceptional bravery and selflessness. His actions inspire us all."
Bosshart said she is very grateful the seatbelts did what they were designed to do and protected her children. 
"I actually just had a situation where the chest clip on her seatbelt, on her 5-point harness, it broke. It was like two days before, and I had to get a replacement for it. Luckily, a friend of mine had one, so I didn't have to wait around and not go anywhere without it. I can't even imagine if I had been driving around idiotically without that chest clip because she would have gone flying out of the car seat," said Bosshart. "Absolutely grateful that the seatbelts and everything, they were buckled in, and it did what it was supposed to do. I mean I think that's why my three youngest children had the fewest injuries. They were all in the five-point harness."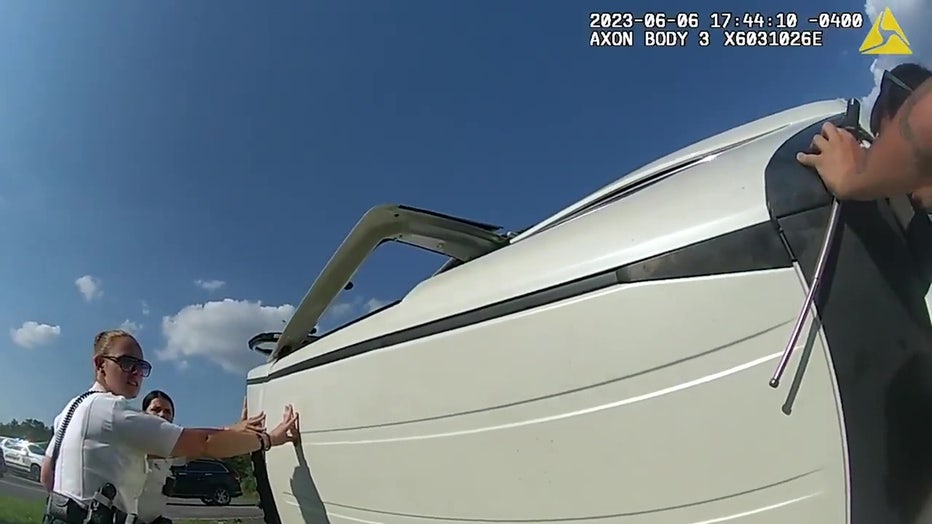 Body camera video shows a rolled over minivan that had a mother and five kids trapped inside after a crash. 
She said God was watching over her family, and they escaped the crash with minor injuries. 
"My son had a concussion, the one I mentioned opening the sunroof. My oldest daughter, she had the fractured clavicle. That's it, just bumps and bruises," said Bosshart. "I mean, if anybody looks at the video, it's a little bit shocking that that's it and all I can say is that it was God."
Thinking of what could have happened, Bosshart is grateful for the seatbelts and everyone who jumped into help her family.
"I could be sitting here without my kids," she said. "I know everybody's so busy these days. It's rush hour traffic, you're on your way home, and it's really easy to say, 'Oh my gosh, I can't believe that just happened,' say a quick prayer and go. If those people hadn't have stopped, I can't imagine how much more challenging the situation might have been. Would we have rolled over completely? Would it have proved to be more damaging and more difficult to get out? I don't know."
Sgt. Rizer with the HCSO said he was doing his job that day when he helped rescue the kids and their mother. He said during a media briefing Thursday evening that he was on his way home Tuesday when he got the call about a crash just around the corner from him. 
"First thing that kicks into your mind was my child, my child when he was that age or if that was my daughter. The emotions run wild," Sgt. Rizer said. "You have to stay focused, but your emotions run wild, you're a human being, so you're going to have those emotions."
"To be able to help her and see how glad she was to get out of belt and get out of that vehicle into my arms – that was probably one of the most gratifying things you could ask as a law enforcement officer, as a human being," Sgt. Rizer said.