Virtual game Venture Valley teaching college students important life skills
TAMPA, Fla. - University of Tampa students put down the textbooks Friday and picked up their screens. Consider it entrepreneurship 101 done in a virtual setting.
"Sometimes watching is not enough, and playing and actually living thru the life of an entrepreneurship a video game can sometimes be retained much easier for students," said Giancarlo D'Andraia, a senior.
Venture Valley is a business sim game with an e-sport twist.  Players build, maintain and grow a business, all while competing against one another.  A tournament among students Friday offered cash prizes and, more importantly, skills they can use later in life.
READ: 'Neon Nights' helps shine light on mental health at UT's campus
"You can play this game, you can start your business learn, make mistakes make positive things, but it's all based on real math behind the scenes," said Venture Valley producer Nick Night.
Math like wages, prices, and expenses-all the things real business owners deal with daily.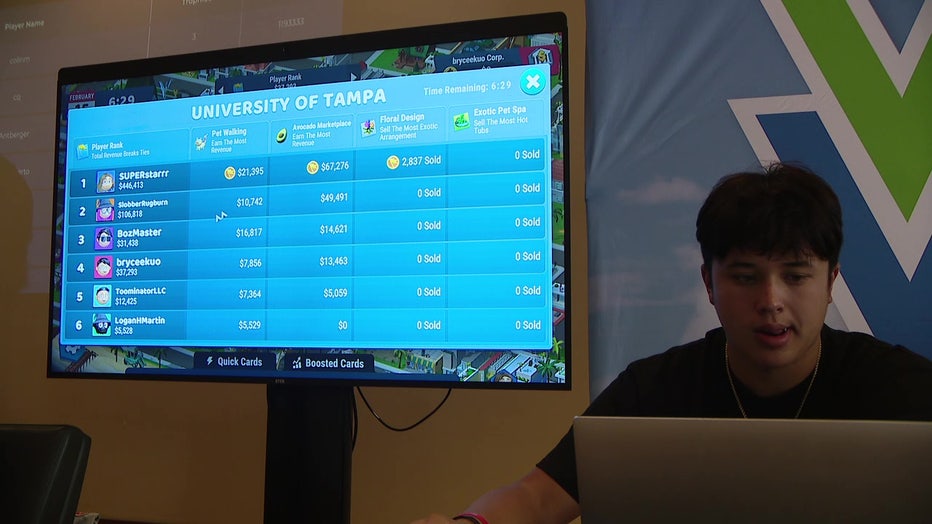 The Venture Valley leader board at the University of Tampa
"I sold my dog walking business for $70,000 and opened up an avocado store and a dog grooming business which helped maximize my revenue and get better returns. So, it seems pretty realistic to me," said junior Austin Lindsey.
D'Andraia, a Senior at UT, already has at least three real-life businesses he's operating.
MORE: Tampa General uses artificial intelligence to help stroke patients regain range of motion
One of the many things he's learned:
"The time is right now, there is no time like the present time," he said. "Get on it now, or you'll regret it later on," he added.
The Friday game tournament winners walked away with six thousand dollars in cash and prizes.