Volunteers change lives at All Faith Food Bank in Sarasota
SARASOTA, Fla. - Volunteers at All Faith Food Bank in Sarasota don't get a paycheck, but they are on a mission to serve the community.
It's the only and oldest food bank in Sarasota and DeSoto counties. 
"It's not, it's not a paid job," said Dan Buchler, one of the volunteers. "But I am paid every time I'm out there by the look on the faces."
The hunger relief organization started in 1989 and is the largest in Sarasota and DeSoto counties.
READ: Artist who lost son writes inspirational kids book with her best friend
"We take care of neighbors in Sarasota and DeSoto County who are facing food insecurity, we work with over 200 partners and agencies who help deliver the food, and we have some services that deliver food to our neighbors directly," explained Denise Cotler. 
Cotler is with the Chief Development Office of All Faith Food Bank. Last year, they served 18 million meals.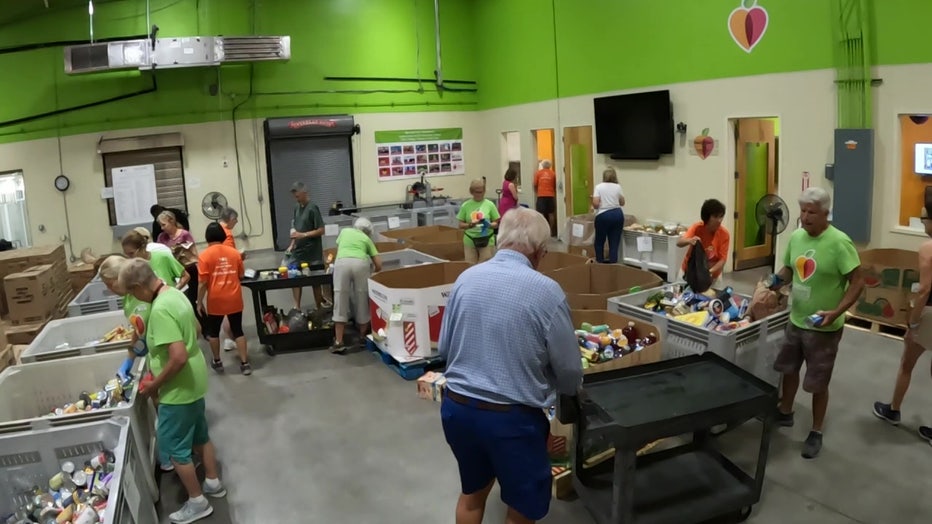 People in need of assistance can get food from the food bank.
"We give out everything from fresh produce, frozen meats, nonperishable food, and just about anything you need in your groceries," said Cotler. 
None of the work would be possible without their 3,000 volunteers.
READ: Moffitt Cancer Center uplifting the spirit of patients through art and music
"The volunteers are the backbone of our operation," said Cotler. "We could not do what we do without our wonderful volunteers."
Buchler started volunteering 11 years ago.
"If it didn't make me feel that good, I wouldn't be there. It's just so important for our neighbors, our community to be doing this. And I got to, I have to do my part. But it is so meaningful to me," he shared. "There's over 750 distributions a month. Places that someone can go get food and assistance. So every day of the week. Sometimes into the evenings."
The food bank is on a feel good mission that is changing the lives of everyone they help.