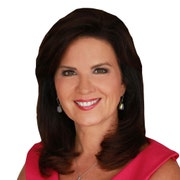 Hi, My name is Linda Hurtado, and I anchor the FOX 13 News at Noon as well as the FOX 13 News at 4 with Chris Cato and the FOX 13 News at 5 with Haley Hinds.
I'm a 20-year veteran of TV news here in Tampa Bay, and am thrilled to be part of the talented family here at FOX 13.
I always wanted to become a journalist and learned the ropes at the University of Georgia – Go Dawgs!   I've worked at TV stations in Fort Myers and Orlando before coming to Tampa.  I know this great state well!
I've won 13 Emmys, an Edward R. Murrow award, Associated Press awards, Society of Professional Journalism awards, and a Florida Bar award for a variety of news and health stories.
I've traveled to Haiti and Cuba covering in-depth reports. During my TV career, I have covered numerous hurricanes including Andrew, Charley, and Irma, a Stanley Cup championship, a Super Bowl championship, and the Republican National Convention, where I landed the only local TV interview with Ann Romney.  I've also hosted or anchored many live events, including the Martin Luther King and Gasparilla parades, and NASA space shuttle launches.
I take pride in being very connected and involved in my community. I've been a keynote speaker at many local events, such as the Women of Influence luncheon hosted by the Tampa Chamber of Commerce, and the Hispanic Man and Woman of the Year awards sponsored by Tampa's Hispanic Heritage, Inc.  I hosted the local MDA Telethon for over 10 years, emceed the local "Dancing with the Stars" event that benefits local charities, and the Florida Hospital Pepin Heart Hospital's Valentine Day event as well as events for St. Jude's Children's Hospital.
I've  been very active with the American Cancer Society's Reach to Recovery and Making Strides Against Breast Cancer events long before my own diagnosis of breast cancer in 2011, because my mother was a breast cancer survivor until the disease finally took her life in 1995. Since my own diagnosis and recovery, I've become the local emcee for the Susan G. Komen events. I support the Face of Courage non-profit as well as the My Hope Chest that funds reconstruction for women who do not have insurance. And every year I donate proceeds from A Shoot for a Cure to the Florida Hospital Foundation to fund mammograms for women without insurance.
When not working, you can find me at sporting events cheering on my two high school-aged daughters. I have two stepchildren, two biological daughters, an adopted son from Cuba, and two English bulldogs. My husband Jorge and I love volunteering at non-profits and supporting Tampa's NHL Lightning, NFL Buccaneers and MLB Rays.  We have a big, busy traditional Cuban family, deeply rooted in the Tampa Bay community.
The latest from Linda Hurtado