Desperate times call for desperate measures as Lightning prepare to face off against Maples Leafs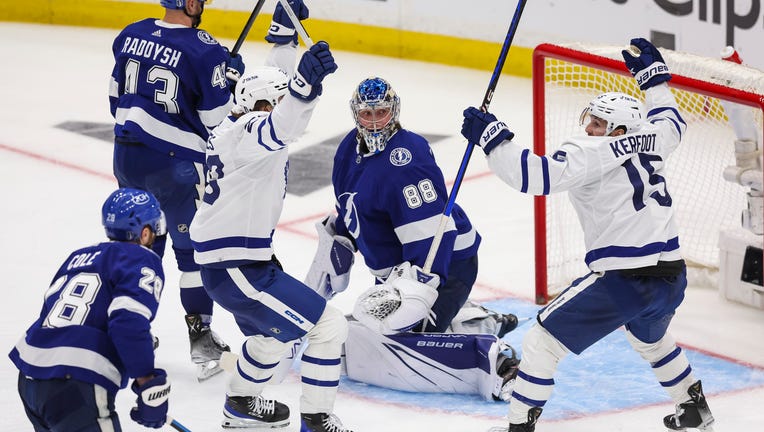 article
TAMPA, Fla. - The Tampa Bay Lightning spent Wednesday morning working on adjustments to keep the Toronto Maple Leafs shots out of their net. 
The team have given up the most goals in four playoff games, so far. Toronto has gotten to Andrei Vasilevskiy, attacking with long shots from the point, which is proving to be his weakness.
Deflected goals have also been costly.
RELATED: Maple Leafs rally, top Tampa Bay Lightning in OT for 3-1 series lead
"It is us getting out to the point," said Cooper. "It is us making sure we are trying to rush plays they're making and not giving them all of this time and space. When you are doing that, it makes the battles in front harder because you have to last a little longer. It is a five-man unit thing, not just a one-person thing."
Down 3-1 in the series the Lightning are in a desperation mode and realize that they have to play a more sound and aggressive style defense.
"They obviously scored some goals where they're getting some pucks from the point," said Steven Stamkos. "It's not necessarily hard shots, but they're getting shots through. Yeah, we have to be more aggressive on the pass rush, we'll try to do that."
"Just playing desperate hockey right now," said Patrick Maroon. "Playing with a little energy, a little life. Get that swagger back in our game, which we do have. There are just some lapses here, maybe six minutes within the game. It's a 60-minute game, and they took advantage of it, kudos to Toronto."
READ: Florida family goes the distance to support the Tampa Bay Lightning
For the Lightning to force a Game 6 and for the series to return to Amalie Arena on Saturday is going to require the Lightning to finish. If not for seven minutes of poor play in Games 3 and 4 in the third period, the Lightning would have a 3-1 lead in the series.
"That is something to build on," said Cooper. "Again, you can't leave anything to chance now. You can't take the six minutes off that we did when we gave up three goals. You have to play this one through to the end and make sure that we come out on top."
Losing back-to-back games at home, blowing two late third period leads, is uncharacteristic for the Lightning. They finished the regular season with a 28-1-2 record when leading after two periods.
"Yeah, well, what is it now? 28-3-2," said Cooper. "We have to make sure that we turn that 28 into a 29 tomorrow night."