Hechavarria HR leads Rays over Yankees 2-1 at Mets' park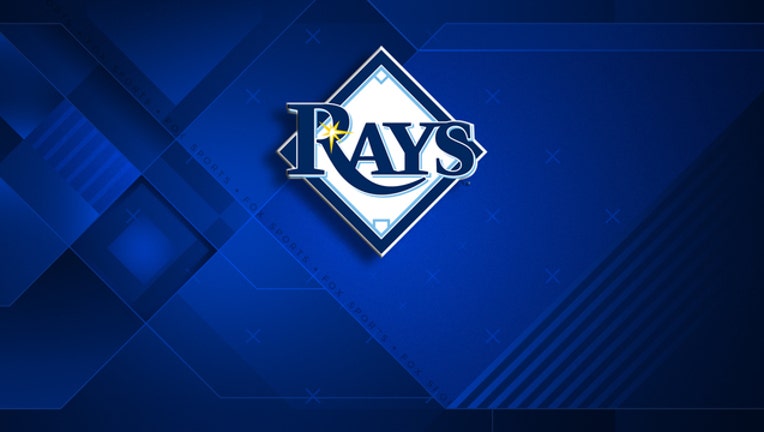 article
NEW YORK (AP) - Displaced but not daunted, the Tampa Bay Rays hung tough in their temporary home.
Adeiny Hechavarria hit a tiebreaking homer off Sonny Gray in the bottom of the eighth inning and the Rays, hosting a series relocated to Citi Field because of Hurricane Irma, beat the New York Yankees 2-1 on Tuesday night.
Tampa Bay has split the first two games of the set played at the New York Mets' park.
"We're the home team. It didn't feel like we're the home team," Rays reliever Steve Cishek said.
The Rays will fly back to Florida immediately after Wednesday afternoon's game for firsthand looks at the storm damage. No word yet from Major League Baseball if Boston and Tampa Bay will play at Tropicana Field on Friday night as scheduled - the Rays expect to hold the three-game set, but it could be reconfigured to give them an extra day off to handle personal matters.
Tommy Hunter (3-5) pitched one inning to give Tampa Bay, on the fringe of the AL wild-card race, its second win in six games. Alex Colome closed for his 44th save in 49 chances.
"We feel like we have the talent here to get hot. I don't know if we're going to win 20 in a row, or 19 in a row," manager Kevin Cash said. "But we've been talking about it for six weeks now, trying to find a way to win five, six, seven games in a row. And maybe tonight's a start."
Gray (9-10) again pitched well but wound up with a loss. The Yankees, who own the top AL wild-card spot, have dropped just three of their last 10.
The Rays occupied the Mets' spacious clubhouse, wore white uniforms and batted last, and the public-address announcer greeted them with "Please welcome the Tampa Bay Rays."
But from the moment the Rays took the field to a smattering of boos, the crowd of 21,024 was decidedly rooting for the New Yorkers. The chants of "Let's go, Yankees" started before leadoff man Brett Gardner stepped in, and echoed for most of the evening.
"It felt a little weird, for sure," Gray said. "We had a pretty good turnout.
"It definitely was a different feeling," he said.
The crowd was about 6,000 more than saw the series opener Monday night. All tickets were $25, with the upper seating levels around the bases closed off. Foul balls that flew into empty sections were retrieved, eventually, by security guards.
"You know what, day one felt pretty normal. It really did. I think it's impressive the amount of fans that have come out and," Cash said, pausing for effect before adding, "cheered us on."
There was a message for hurricane relief shown on the videoboard. The Mets' game at Wrigley Field, meanwhile, was posted on the out-of-town scoreboard.
Hechavarria finished a home run short of the cycle in a 5-1 loss Monday night. He connected for his sixth homer this year, including a drive at Citi Field on May 7 while playing for Miami.
Gray gave up a home run to Kevin Kiermaier on his very first pitch. The right-hander allowed five hits overall and struck out nine in only the second complete game for Yankees since Aug. 15, 2015. The other was a shutout by Masahiro Tanaka at Boston on April 27.
Matt Holliday - a rare designated hitter in a game held at a National League park - put the Yankees ahead in the first with an RBI double off Blake Snell.
Snell didn't permit another hit until Gardner opened the sixth with a single, and he was pulled. Cishek relieved and got five key outs, fanning three.
"Each game is so precious for us," Snell said.
HE'S THE DUDE
Lucas Duda doubled in the Rays first, and his last 13 hits have all gone for extra bases. It's the longest such streak in the majors since Jim Edmonds got 13 straight extra-base hits in 2008 for San Diego. Traded from the Mets to Tampa Bay in late July, he has 71 career home runs at Citi Field, the most by anyone since the park opened in 2009.
TRAINER'S ROOM
Rays: RF Steven Souza Jr. returned to the lineup for the first time since Friday, when he nicked his left knee running into a wall at Boston.
Yankees: 1B Greg Bird missed another start because of back spasms that he started to feel Sunday. He had an MRI.
UP NEXT
Rays: RHP Chris Archer (9-9, 4.00) goes into Wednesday's game at 6-6 with a 2.82 ERA in 16 career starts against the Yankees, throwing at least six innings every time. Last Friday at Boston, he was tagged for eight runs in three-plus innings.
Yankees: LHP Jaime Garcia is 0-2 in five starts since being traded from Minnesota to the Yankees. He hasn't pitched since Aug. 30.