Tampa Bay Lightning give brothers chance to skate together again
TAMPA, Fla. - Dylan and Tyler Duke are used to competing with on another on and off the ice. That's to be expected, though, with the brothers only being separated in age by just 16 months. 
"That's just where we get our competitive nature. It was a lot of fun back then," Tyler said. 
As Dylan, the older Duke brother and the Tampa Bay Lightning's 2021 fourth round draft pick, got ready for the Bolts' development camp this summer, he knew he'd have some extra company. 
READ: Tampa Bay Lightning releases 2023-2024 regular season schedule
A few months back, the Lightning extended an invitation to Tyler to join the camp, as well. 
"With my brother here, it was a no-brainer for me, so I'm just really excited to be here," Tyler said. 
Now, for the first time since they were kids, the Duke boys get to skate in the same jersey together again. 
"We'll be able to remember this for the rest of our lives and talk about it forever," said Dylan. "To see him [Tyler] in an NHL practice jersey is just special, and it's something we'll both cherish forever."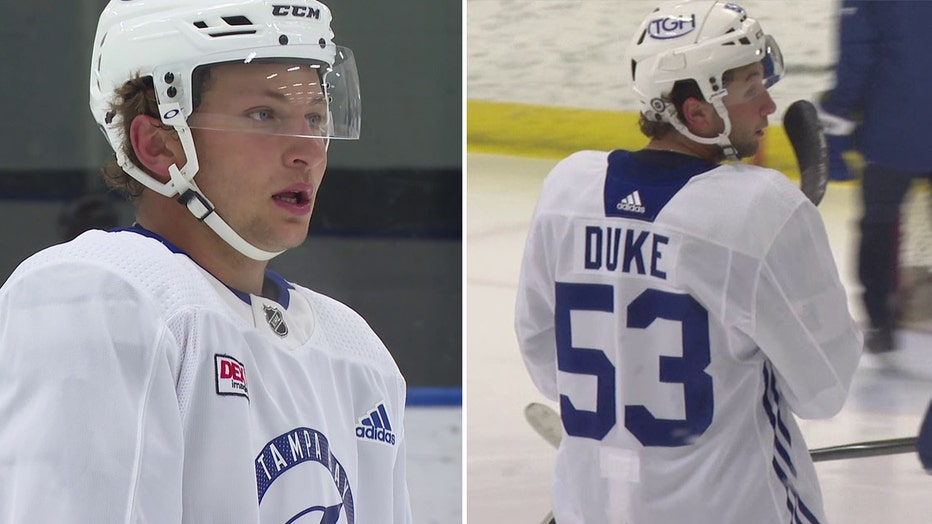 MORE: Tampa Bay Lightning target offensive help in 2023 NHL Draft
Unfortunately, the brothers were separated into different practice groups during the development camp. But their sibling rivalry both on and off the ice remained. 
"We've kind of been right there with each other growing up," Tyler remembers. "My dad used to build a backyard rink, and we would go out there one-on-one and just battle against each other." 
Nowhere was that sibling rivalry on display more than during the five games they played against each other during this past college hockey season. 
As a freshman defenseman at Ohio State, Tyler was often tasked with trying to shut down older brother Dylan and his Michigan Wolverines. 
"He's kind of a pain in the butt in front of the net, and he gets under your skin a little bit," Tyler said. 
PREVIOUS: Tampa baseball coach passes love for sport onto next generation
But, as it turns out, this camp won't be the last time Tyler and Dylan get to wear the same jersey. That's because Tyler transferred from Ohio State to Michigan and will join Dylan in the Maize and Blue next season.
"Still, to this day, we're playing with each other, and it's just been a blast," said Tyler. 
While their hockey careers are sure to diverge at some point, for now, Dylan and Tyler Duke can enjoy being brothers on the ice a little while longer.