13-year-old reaches significant milestone in recovery with the help of Johns Hopkins All Children's Hospital
TAMPA, Fla. - It's been one year since 13-year-old Jasmin Cervantes-Garcia was seriously injured in a crash in Mexico that killed her parents and grandparents.
Since then, she's made dramatic progress in her recovery and is now walking again. To celebrate her family, she participated in a special event that gives kids with special medical needs unique experiences.

For the family of 13-year-old Jasmin Cervantes-Garcia, the last 12 months have been unfathomable. Last June, she was vacationing with her family in Mexico when her brother Cruz Cervantes says a charter bus struck the family's pick-up truck head-on killing her parents and grandparents, leaving Jasmin as the sole survivor.

"Just the fact that she was able to hang in there as bad as the accident was that in itself was a miracle," Cervantes said.
She suffered injuries throughout her body, including severe brain injuries. For months, she's been undergoing speech and physical therapy at Johns Hopkins All Children's Hospital, where just weeks ago, she was able to take her first steps since the crash.
READ: 'Doggy angel' helps rescue 6-year-old pup from busy I-275 traffic in Tampa

"There's a lot of obstacles she's had to overcome. Not just mobility, but cognitive obstacles," Johns Hopkins All Children's Hospital physical therapist Michelle Schultz said.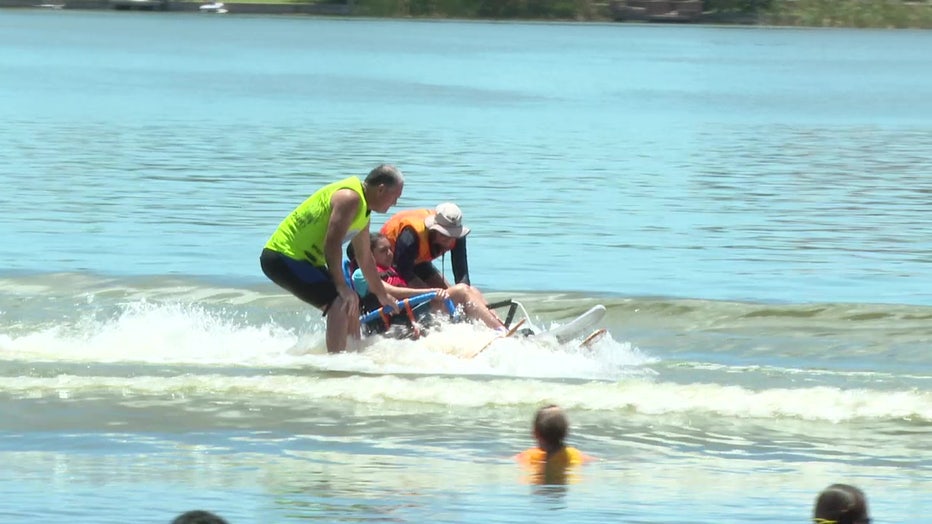 Saturday, Schultz, who runs the organization Landon's Legacy in memory of her newborn son who died after being born pre-mature, hosted their annual event where they offer kids with special medical needs one-of-a-kind experiences. This year was a special water-skiing experience at Lake Seminole for 18 kids, including Jasmin.
"Just seeing her come out of her shell these last few months, getting up out of a chair on her own, standing by herself, walking completely on her own just within the last few months. It's just been so awesome to see that," Schultz said.
READ: Tampa non-profit hosts fifth annual all inclusive fitness challenge 'Champions for Change'

Thanks to Ann's Angels, which specializes in adaptive water-skiing, one-by-one kids like Jasmin were strapped to special chairs welded to a wakeboard. With the help of two professional water skiers on each side, Jasmin experienced the joy of water.

"She enjoyed it. She loved the air in her face and her getting wet. She was all happy and giggled," Cervantes said.
"Going forward, Cervantes says he and his family are taking it one day at a time, feeling blessed Jasmin is still with them, and says her spirit is what's getting them through.

"She's all smiles and hugs and kisses, so she's doing good," Cervantes said.