As Dade City continues to grow, it still has that 'small town' feel
DADE CITY, Fla. - Nestled in the rolling hills of Pasco County, you will find a slice of old Florida. Dade City feels like a small town but there little something for everyone.
It's a wonderful place to visit, or even to call home. Dade City is where visitors and residents can slow down and take in their surroundings – far away from the hustle and bustle of largest cities. It's where kumquats are grown, alpacas and giraffes roam, where historic buildings have stood the test of time and antique gift shops are bustling, like American Eagle Antiques (which, by the way, has a cafe inside). Today, city officials say it is the "hub" of eastern Pasco County and where businesses and its economy can continue to grow.
"It's one of our unique features," explained Mayor Camille Hernandez. "We really pride ourselves in the quality of life here – engaging with people and families and having unique experiences whether it's in our restaurants, our unique boutiques, or just spending time on some of our trails or visiting some of our museums."
It's not just where retirement folks move to anymore, it's families, too. Hernandez said the median age of Dade City residents is about 35.
"We have younger families coming in that are just starting out. They're calling this home, they're building their businesses here. That really has caused us to change things that we're doing to," she explained.
Commissioner, Scott Black, who is also the city's historian, said after the death of the citrus industry, it opened up a lot of land.
"They want a piece of country, they want a bit of elbow room," he explained. "People come in…building a home and raising their children here, and still have easy access to Tampa and other places."
The city wants to preserve all that Dade City has to offer, while all that growth is happening.
"It's a challenge," Hernandez described, "but we think of it as an opportunity."
Saving the historic courthouse
Sylvia Young was a county commissioner for 20 years. She is retired now and has been a lifelong Pasco County resident.
"I've always loved Dade City," she said.
The Pasco County Courthouse was built in 1909. Much later, a new courthouse was built, and the original sat there deteriorating. It still stands today because of Young. Out of all the things she has done in her career as a county commissioner, she said preserving and bringing back the county courthouse was one of her proudest achievements.
"It is, it really is," she said to FOX 13's Russell Rhodes. "It took a long time to get the grants and then it was a long time to get a contractor. We wanted the perfect company."
"It was a lot," she added.
"Do you miss being a part of all of this?" Russell asked.
"Not really," she responded with a laugh. "I did my thing for 20 years. Now, they're elected. I never did like to get into anybody else's business. They have their own ideas. As long as they keep it up and keep it open, I'm happy. I think it's gorgeous."
In front of the courthouse, there is a marker that reads, "Commissioner Sylvia Young, who served from November 18, 1980 to November 21, 2000. With great appreciation for your dreams, efforts, and dedication to the major role you played to keep history alive with the preservation of this historic courthouse."
To this day, the old courthouse is used and is listed on the National Register of Historical Places. 
The perky owner of Perk's Café
Perks Café Artisan Coffee & Chocolates helps Dade City get through the day. When you walk in the door, you will be smacked in the face with the sweet smell of goodies.
The owner, Corry Graber, has an infectious laugh and is probably the reason why she named the café after the word, "perk."
Graber is from Michigan and always wanted a coffee shop to do her pastries and all her chocolates. 
"Being in that cold, it's like, 'no,'" she said. "I need to come down here to Florida."
Graber said her brother lives in Florida, and invited her to join him. She said Dade City reminds her of back home.
"Everything is made from scratch," she explained, adding that she has sweet and savory scones, and tries to put a creative twist on her baked goods. 
"Chocolates are my passion," she said. "That is what I am known for."
Right now, the café is open from Monday through Friday. Soon, she will open on Saturday and sell her chocolates online.
LINK: For more information, head over to the Dade City Chamber of Commerce's website.
The not-too-sweet breadstick with icing on top

John Edwards grew up in Dade City, and now owns the local staple, Olga's Bakery and Deli. He said it's weird that he became the owner.

"I grew up on Church Street," he explained. "I wasn't far from here. It was tradition to come down here. It is a Dade City tradition." He said Dade City is a small town where everyone knows each other.

"When I was little, I wasn't only going to get whooped by my friend's parents, but when I got home I was getting it there too," he said. "You kind of got it twice growing up around here."

One of the known baked goods at Olga's is their breadstick topped with icing. It's not like any breadstick that you have seen before. It's more like an inside-out Twinkie, maybe. It's not too sweet, either. You'll just have to try it for yourself. The address is: 14117 7th Street.

"We're at Olga's but there's so many nice, little stores here," Edwards said. "I encourage people to come down here and just spend time walking around on a Friday or Saturday."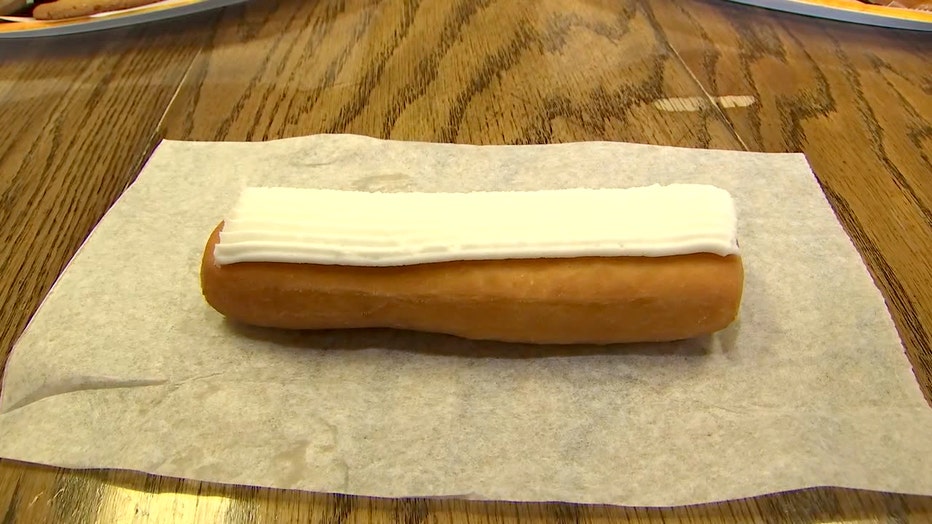 Olga's Bakery and Deli is known for their iced breadsticks. (FOX 13 News)
"It is what it is – good!"
Steph's Southern Soul Restaurant is like a throwback. Everything is homemade and based on good old southern recipes.
"We're the soul food of Dade City," said the owner, Stephanie Reaves. "It's a wonderful place to set up to have the opportunity to love these people. This is where I want to live and raise my grandchildren. I love the opportunity to bring good food to them, because they like good food. They like to let me know that they like good food."
Fried chicken is a favorite. What's the secret?
"It's no secret. We just don't tell it," she said. "It is really the love we put into our food. I want the food to taste just like I like it."
On the menu, there is catfish fillet, homemade hush puppies, fried okra, fried pork chop, meatloaf, grilled liver and onions, oxtail and even beef tips. 
"Dade City loves beef tips," she said.
If you have any room leftover for dessert, they offer 22 fresh homemade desserts. 
Lunch on Limoges created the successful momentum in downtown

Lunch on Limoges has been in business for 40 years, but before that, the business was a dry goods store. The building itself has been in the family for 112 years. 
Then, decades ago, Skip Miz and Phil Williams decided to turn it into a restaurant. Nothing has changed since then.
"It's like a step back in time," Miz said. "Everything is sort of like the 50s and we like that. We like the slower pace of everything. We still make everything ourselves."
They grow their own food, like avocados, mangos, lemon, and more. They were farm-to-table before it became the trend it was today.
"We still have people come back here that worked here years ago," Miz said. "They bring their children back and say, 'When I was a teenager I did this,' or 'I worked in the clothing store.' It's amazing what happens with this place because it's so old."
There's a strong argument that Lunch on Limoges made downtown Dade City a destination, allowing for other surrounding businesses that came later on to be successful.
"We made it a destination," Miz said.
LINK: Learn more by visiting Lunch on Limoges' website.

It's all about community outreach
One of the things that makes Dade City work so well is how the community and the government entities all come together for the common good.
Dade City Police Chief James Walter said he is proud of the relationship his department has with the community. 
"That's due to the dedication of the hardworking members of the Dade City Police Department and their relationship with the community," he explained.
It's a relationship that is reciprocated.
"When we needed a K9, we reached out to the community," he said.
That's when the Dade City Police Foundation was created. With the community's support, they were able to get the funds for a K9.
So, they got Tyke. 
"He is my best friend," K9 officer Kevin Burns said. "He does apprehension, looks for lost children, missing adults, he is certified in narcotics."
Chief Walter said it's important to reach out, starting with the children.
"We go into the schools with a part of 'Big Brothers, Big Sisters' called Bigs in Blue," he explained. "Our officers volunteer to participate."
One way those volunteer police officers help is by reading to troubled youth.
"Our jails and our prisons are full of illiterate individuals…we can do something about that process early on," he said.
Volunteer police officers also go shopping for Christmas and before students head back to school. 
"We shop to give them clothes. All those kids have new clothes -- clothes they can feel good about," he said. "When they look in the mirror when they start school, they have a positive attitude to help them be successful."
The kumquat crop has had a few rough seasons
Dade City is known for its kumquats and annual festival, but the crop has had a tough time.
A few years ago, bugs and the citrus greening disease killed almost everything they had, so, they replanted, explained Greg Gude, manager of Kumquat Growers. 
"A year after we replanted, we got hit with a little freeze that got a lot of the trees," he said. "A lot survived. It takes 3 to 5 years for a kumquat to get to where it is in production. We are in our, basically, third year, third season now. We're still not going to be able to be in production with the commercial line."
But the gift shop will be open, and the Kumquat Festival will go on.
For the kumquat newbies, there is a proper way to eat a kumquat. First, you squish it a little bit, or roll it in your fingers. It brings the oil to the peel, which is where the sweetness is. Finally, you pop it into your mouth. There are a couple of seeds, but they won't hurt you, if you swallow, Gude said. 
Sunshine Princesses get to shadow Miss Pasco
This year, young Bailie Williams is a Sunshine Princess. 
"Did you have a fun year?" Russell asked.
"Yessir," Williams responded politely.
Courtney Jones Loss, executive director of Miss Pasco County Pageant, said Sunshine Princesses are part of a mentorship program created by the Miss American Organization. Young boys and girls between the ages of 5 and 12 can join. 
"It's kind of like a 'Big Brothers, Big Sisters' organization but in the pageant level," she explained.
Whenever a titleholder is crowned, like Miss Pasco, they can choose up to five young people, or a child can ask to be mentored. Then, that child can make appearances with them. 
"So, anytime that Miss Pasco does a parade or any other appearances, the Sunshine Princess gets to go with them," Loss explained.
In January, they will crown a new Miss Pasco at the Pasco County Fair. The importance of that pageant and that fair to this community is huge. The fair will be celebrating its 73rd year, and it is made up of 200 or more volunteers. 
"Nobody gets paid for the positions they do to put on the fair," Loss aid. "We're still a small town even though we are the Pasco County Fair. It still gives you that small town, hometown feel."
The next Pasco County Fair will be held from February 17-23 in 2020.
Upcoming Events in Dade City:
Bug Jam: No, not the insects. The 31st Annual Bug Jam will take place November 9 and 10, and will feature 700 Volkswagen vehicles or vehicles made from Volkswagen parts. Click for more information.
Sweet Blossom Alpaca Farm's Open House: There are llamas too. Once a year, Sweet Blossoms opens up to the public. There are 15 acres with 65 alpacas and four llamas. Their open house will be held November 16 between 10 a.m. and 3 p.m. As for the rest of the year, you'll have to schedule a personal tour ahead of time. Click for more information. 
Christmas Parade: It's a beautiful night parade worth seeing for yourself. It will take place December 6 from 7 p.m. to 9 p.m. Click for more information.
Christmas Stroll: Here, you can enjoy a stroll where shops, restaurants and guest vendors will open for a special Holiday Market on December 7 from 5 p.m. to 9 p.m. As you walk through downtown, holiday music will be playing. Click for more information.
Church Street Christmas: From December 21 to 23, Church Street will be filled with nightly entertainment by church groups and musicians. Click for more information.
Kumquat Festival: Every year in Dade City, they hold the Kumquat Festival. It's a big crop there and the small orange fruit is delicious. It will be held January 25, 2020 from 9 a.m. to 5 p.m. Click for more information.  (Fun fact: About 20 years ago, Russell Rhodes was crowned Mr. Kumquat)
In between all of those events, there are plenty of things to do in Dade City including TreeHoppers Adventure Aerial Park and Giraffe Ranch. It's also worth visiting the Dade City Heritage and Cultural Museum, which took over an old train depot that was built in 1912. 

On November 8, 2019, Good Day Tampa Bay showcased all that Dade City has to offer – from its history to its bustling downtown.