Canadian group sponsors billboard opposing taxpayer-funded Rays stadium
ST. PETERSBURG, Fla. - A group from Montreal, Canada was in the Tampa Bay region, spending hundreds of dollars to send a message to the Tampa Bay Rays.  
They purchased a billboard that overlooks Tropicana Field and I-275's Pier exit that reads:  "Dear Rays, Montreal won't pay for your new stadium. Sincerely, taxpayers" 
The team's leadership has floated the idea of a split season between somewhere in the Tampa Bay area and Montreal, starting when the team's lease is up at the Trop in 2027.
The Canadian Taxpayers' Federation paid $1,300 for the billboard that will be up for a week. The group is fighting for lower taxes and less government waste.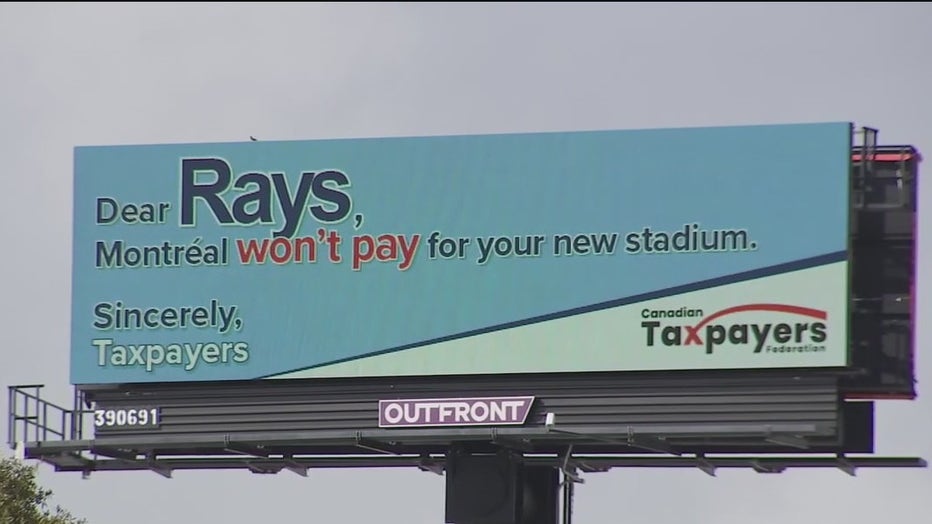 Director Renaud Brossard says they want the team's ownership and management to hear their message.  
"If the Rays want to come and play in Montreal, they are more than welcome to do so. We will give them a warm Canadian welcome. But they cannot treat our wallets like an open bar," Brossard said.  
If that message sounds familiar, it's what the team has been hearing from Bay Area leaders for several years. 
Mayor Rick Kriseman says he does not want to give away resources for a new stadium in St. Pete. 
RELATED: Rays set Jan. 2022 timeline for Montreal/Tampa Bay split season deal
Meanwhile, Tampa continues to try and come up with plans for a stadium in Ybor City, but Mayor Jane Castor has said, "The days of taxpayers footing the bill for sports stadiums are over." 
The team has yet to comment on the billboard.