Boil-water notice issued in northwest Hillsborough County after Citrus Park water main break
TAMPA, Fla. - Hillsborough County officials have issued a boil-water notice after a water main burst in the area of Westchase and Citrus Park.
The view from SkyFOX showed a work crew at a construction site with water bubbling up from the broken pipe near the intersection of Citrus Park Drive and Sheldon Road.
Some residents and businesses were temporarily without water service starting just after 4 p.m. County officials said a contractor performing modifications to the existing distribution system damaged a 24-inch water main line just north of the Fawn Ridge Water Treatment Plant, 9564 Exposition Drive, Tampa, near Sheldon Road and Fawn Ridge Boulevard.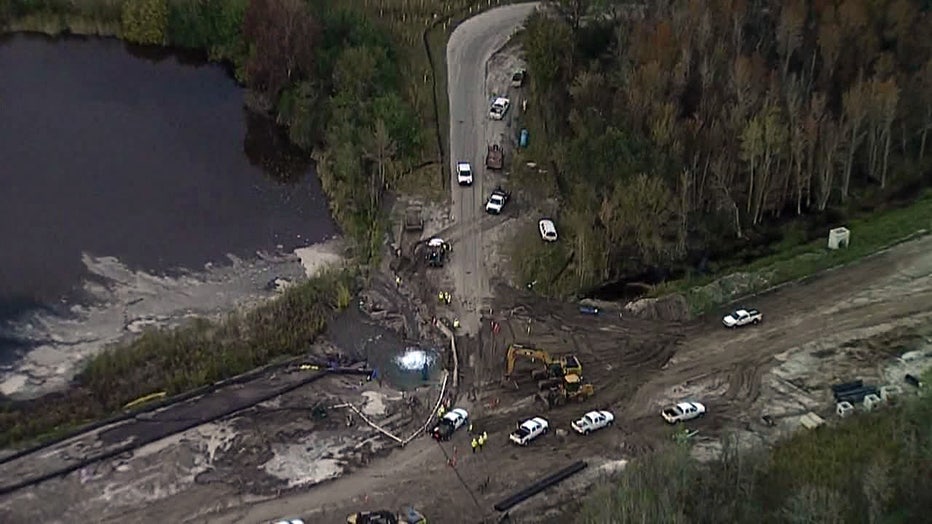 Water service has been restored; however, customers in the impacted area are advised to boil water as a precautionary measure until a rescission notice is issued.
The boundary of the impacted area is west of Veterans Expressway to Ehrlich Road and west of Gunn Highway to Racetrack Road all the way to the Pinellas County line.
Water for drinking, cooking, making ice, or brushing teeth should go through one of these precautions to disinfect tap water to kill any bacteria or viruses that may have entered the water. 
Bring the water to a rolling boil and hold it there for one minute. Aerate the boiled water by pouring it from one container to another, several times, to improve the "flat" taste left by boiling, then refrigerate for best results.
Use bleach if you cannot boil your water. Add eight drops (about 1/8th teaspoon) of bleach for one gallon of tap water, shake, then let stand for 30 minutes before drinking. Use food-grade containers and unscented common household bleach that has 5% to 6% active ingredients. If the water is cloudy, use 16 drops (about 1/4 teaspoon of bleach) instead of eight. There should be a slight chlorine odor.
Use water purification tablets or iodine sold at many sports and camping stores.
You also can buy commercial bottled water for drinking and cooking.
Last week, a work crew in Tampa struck a water main outside the city's primary treatment plant, resulting in a days-long boil water notice for thousands of customers.
The Hillsborough County Health Department said a precautionary boil water notice is required after pressure in the lines drops below a certain level.
"Although it is unlikely there is any contamination in the system, the notice means customers are advised, as a precautionary measure, that all water used for drinking, cooking, making ice, brushing teeth, or washing dishes be boiled," the county said.