Man arrested after fighting staff, shouting at Spring Hill jewelry store, deputies say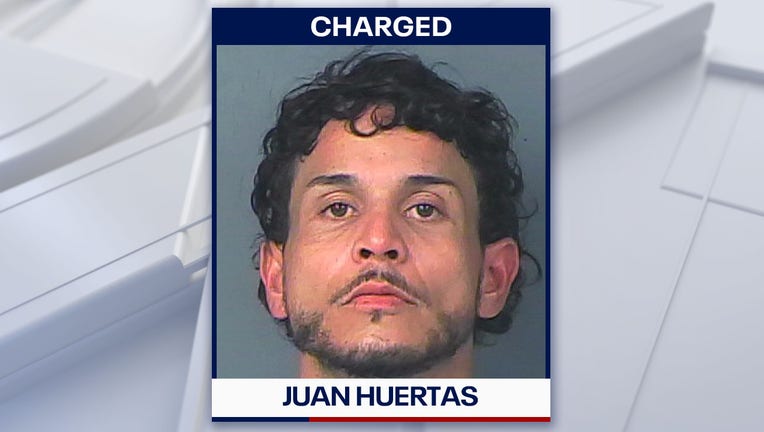 article
SPRING HILL, Fla. - A man went into Nature Coast Jewelers on Monday demanding to go into the back room of the store to find his brother, according to deputies.
Authorities say that they received a report about the suspect, later identified as 35-year-old Juan Huertas, after he came into the jewelry store acting strangely.
Huertas went inside the store on Forest Oaks Boulevard in Spring Hill, demanded to go to the back room, and got into a physical altercation with one of the store's staff members when he was asked to leave, according to the Hernando County Sheriff's Office.
READ: Man's body found floating in the Withlacoochee River in Hernando County: Deputies
During the fight with a staff member, several display cases were knocked over and broken, according to authorities. Deputies say Huertas fled the store on foot.
Officials say that the man's brother was not at the store and the staff did not know the man or any of his family members.
According to the sheriff's office, deputies responded to the scene and found Huertas at another nearby shopping plaza.
READ: Florida woman confesses to killing significant other in Weeki Wachee home: HCSO
Huertas gave deputies a false name and resisted when they tried to detain him, according to officials. Authorties say he kicked a deputy in the center of the chest when they tried to put him inside the patrol vehicle.
Huertas was taken to the Hernando County Detention Center and charged with battery, battery on a law enforcement officer, and providing a false name to law enforcement.
The sheriff's office says that Huertas is being held on a $7,000 bond.
Anyone with information on his case is asked to contact Hernando County Crime Stoppers by phone at 1-866-990-TIPS (8477) or **TIPS from a cell phone. To make a tip online, click here. You will remain anonymous and also be eligible for a reward up to $5,000 cash.