Mueller report confirms: FBI believes Russians hacked Florida county's voter records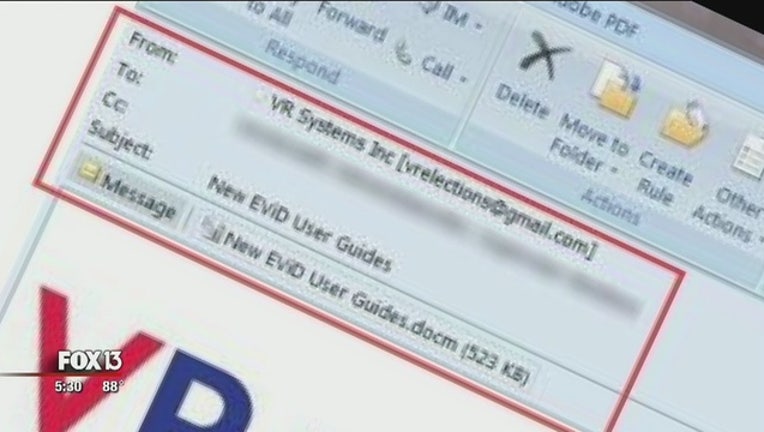 TAMPA, Fla. - The Mueller report confirms the FBI believes Russia launched a successful cyberattack on voting data in part of Florida.  This was a warning from former Senator Bill Nelson that the campaign committee for his rival Rick Scott mocked as Scott challenged and defeated Nelson. 
During the campaign, Nelson said the Russian government successfully hacked into voter records in Florida in 2016. 
Russian hackers targeted voting systems in counties across the state, and according to the Mueller report, the FBI believes they successfully infiltrated voting records in at least one county. 
At this point, we don't know which county or counties the Mueller report is referring to. Election managers in the Tampa Bay area previously said they were told their records were not compromised.  
Based on previous reports, the successful hacking gave Russia access to voter registration data, not operations relating to actual election tabulation and results. Based on this information, Russia would not have been able to alter vote counts, but would have had access to information in individual voting records, and may have had the potential to alter voter registration status.  
This Russian hacking operation revealed in the Mueller report relates to an email phishing scheme FOX 13's Merissa Lynn first investigated in 2017. 
Pasco County Supervisor of Elections Brian Corley recalled receiving a bogus email on October 31, 2016 that he immediately recognized as a phishing scheme.  It said it came from VR Systems, a vendor that sells voter registration software. It claimed to have an update. But it was from a Gmail account not associated with VR Systems at all.
"When elections begin, the cycle, you don't have vendors send you updates," said Corley. "I recall that specifically because early voting had already started in Florida. You wouldn't be getting an update to a manual. That just does not happen in our business. We would have gotten it months in advance."
The second red flag the e-mail raised, Corley said, was a misspelling of the word "modernized." So Corley did not click on the infected attachment.
A federal contractor later leaked classified documents detailing how that email was part of a Russian military cyber-attack on U.S. voting software, which relates to the warning from former Senator Nelson and the finding in the Mueller report.   
In response, a spokeswoman for Florida's Division of Elections said the state was not told which county or counties may have been successfully attacked by the Russian hackers as noted in the Mueller report, stating Florida "has no knowledge or evidence of any successful hacking attempt at the county level during the 2016 elections."