Officials crackdown on 'snipe signs' illegally placed on public property
TAMPA, Fla. - From handwritten signs attached to utility poles to the ones stuck in the ground, any signs put up on public property without a permit are illegal.
Bay Area municipalities are cracking down on these snipe signs. The cleanup effort has been dubbed Sign Off Day, when crews with the city of Tampa, Temple Terrace, Plant City and Hillsborough County spend about three hours focused on removing the unauthorized signs.
It is a constant battle for code enforcement and neighborhood enhancement crews to keep streets clear of illegal roadside signs, advertising everything lawn care to moving services,
"We hope to have a clean parkway, but I can give it about 24 hours before they show up again," said Hillsborough County Director of Code Enforcement Joe Gross.
Complaints role in, and officers cruise around, on the hunt to rid public medians, utility poles, and rights of ways of these snipe signs.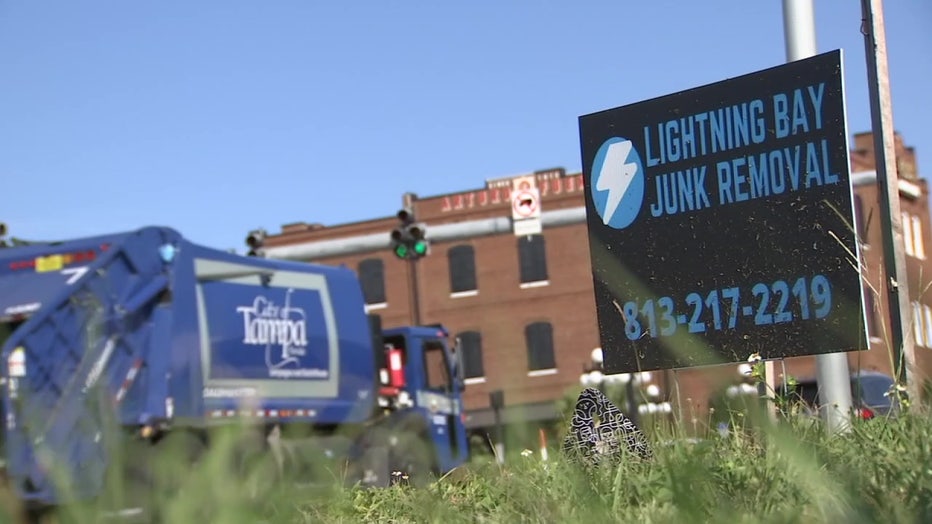 Officials say they remove tens of thousands of illegal advertisements every year.  Hillsborough reports about 40,000 are picked up across the county annually, and in Tampa we are told city crews grabbed 849 unpermitted signs in Thursday's sweep.
"Eventually we're going to catch it and remove it," Gross said.
The signs range from handwritten to professionally printed and pitch everything from job openings to credit repair.  The signs tend to pop up and clutter busy intersections and well-traveled roads.
"There are a lot of other ways to get the word out about your business, about your whatever it is you're pushing. So please choose another means," pleaded Gross.
It is a big problem.  The nuisance signs can be an eyesore, papers clutter storm drains; they can block visibility in intersections, and create other safety hazards.
"Should we have had high winds or thunderstorms, it doesn't take much for those to become airborne, either off of utility poles or even the ones with the wire stands kind of can fly and get into traffic. And you know, a lot of these are concentrated at the busiest intersections, and that's the last thing we need," Gross explained.

The exact rules and ordinances about illegal signs vary for each locality.
UPDATES: Get news alerts and updates in the free FOX 13 News app