Buttigieg to Republican veterans: 'It's OK to change your mind'
TAMPA, Fla. - Former presidential candidate and frequent Fox News guest Pete Buttigieg has a message for voters who pulled the lever for Donald Trump in 2016: "It's OK to change your mind."
A veteran of the war in Afghanistan, Buttigieg has been an open advocate for military and veteran issues.
At a gathering of veterans and military service members in Tampa Wednesday, the former Mayor of South Bend, Indiana said voters "need to replace this Commander in Chief."
"Joe Biden won't have to run a focus group to know what's on the minds of military families. The Biden's are a military family," Buttigieg said. "You won't ever hear a president Joe Biden go silent when he hears there are bounties on the heads of American troops."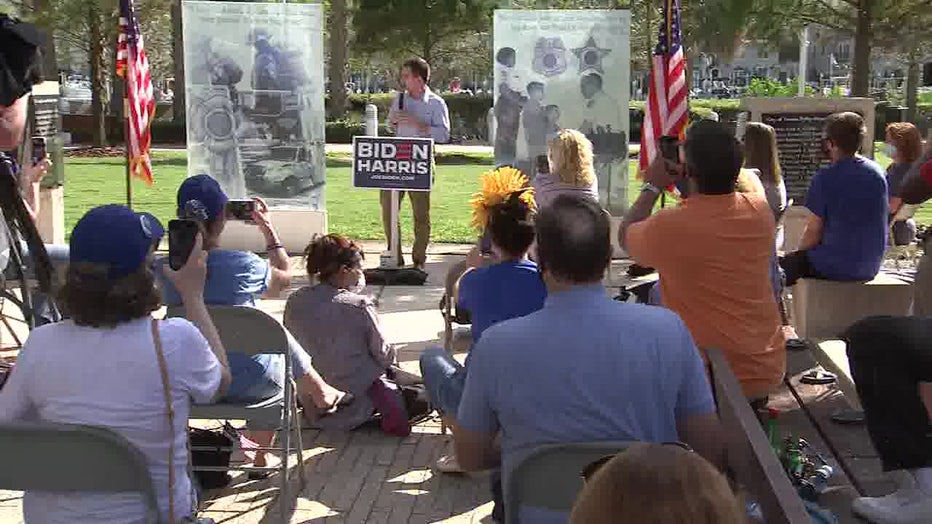 Pete Buttigieg speaking at a veterans event in Tampa
During his stops in Tampa and St. Petersburg, Buttigieg said it's a high-stakes election -- with the economy, healthcare and the pandemic in the balance -- but most of all, he says it's time for unity.
"We have a chance to expand this country's sense that we're all in this together at a moment when we've got together if we're ever going to get through what confronts us," Buttigieg said. "I see so many people who are ready for change, lifelong Democrats but also some lifelong Republicans and a lot of independents, saying let's move on from this chaos, get the pandemic under control."
Buttigieg gained popularity within the Democratic party during his own 2020 presidential bid.
"I've been a fan of Mayor Pete since he ran. He consorted himself really well in the debates," commented Robert Meyer of Tampa.
He's been on the campaign trail for months, making his case for former Vice President Joe Biden and vice-presidential nominee Kamala Harris.
After the event in Tampa, Buttigieg crossed the bay for a Pride at the Polls event, encouraging supporters and the LGBTQ+ community to vote early. As a married gay man, Buttigieg says this election is personal for him and countless others.
"Our marriages are up for debate. There was just another confirmation to a Supreme Court that means so much to those of us whose marriages only exist by one vote on that bench," Buttigieg said.
Buttigieg acknowledged the Bay Area's importance in the race for president and said his trip during the final days of the campaign was all about getting out the vote.