Slot machines, cash seized from Bradenton arcade known for illegal gambling
BRADENTON, Fla. - The Manatee County Sheriff's Office seized slot machines and thousands in cash as part of a statewide effort by the Florida Gaming Control Commission to crack down on unlawful arcades.
A once popular spot for illegal gambling in Bradenton is now an empty, cleaned-out business suite inside a strip mall on 1st Street West.
"They're well aware of the law. They know they're running an illegal operation. They're taking a chance," said Randy Warren, MCSO's public information officer.
READ: HCSO: Youth pastor and softball coach both arrested for sex crimes involving minors
Manatee County deputies carried out a search warrant at the Spin City Arcade Thursday. They seized a total of 33 full-size arcade-style video slot machines, 62 computers and other electronics deputies say were used for illegal gambling along with $15,000 in cash.
Business in the same strip mall didn't want to go on camera, but tell FOX 13 the arcade has been operating for at least the last few months but didn't realize exactly what was going on inside until Thursday's raid.
"The laws are in place. It's very clear. If they are not going to shut them down on their own then the sheriff's office in cooperation with the Florida Gaming Control Commission is going to do it for them," Warren said. "We're not trying to take away anyone's entertainment, but they have to understand that there are laws in place. If they want to gamble this way then they need to go to a licensed in casino."
CRIME: HIV-positive Lakeland High School track coach accused of sexually battering teen boy: PCSO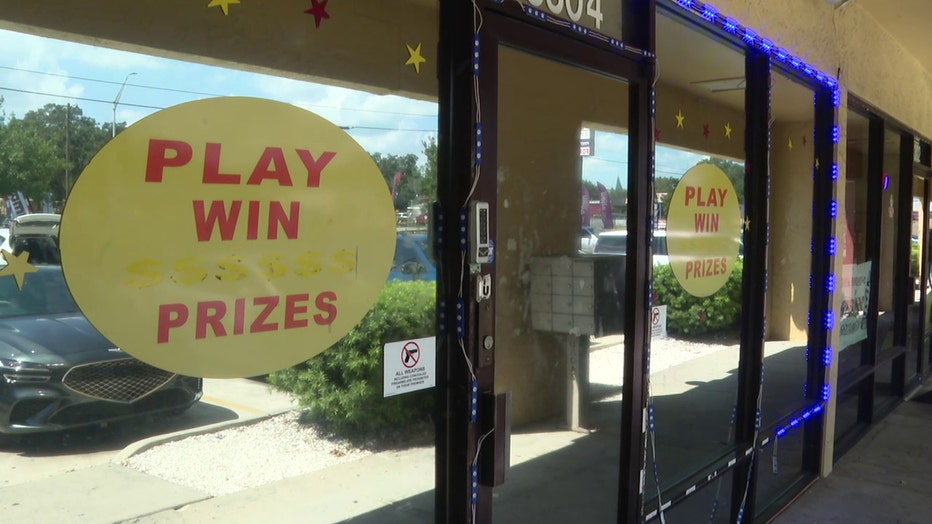 In May, deputies identified 50 facilities with illegal slot machines and sent cease and desist letters to all of them warning of the charges they could face if they refused to shut down. To date they say most businesses have complied and have shutdown. 
As for the owners of the Spin City Arcade, the investigation is ongoing and charges are still pending.
"We just want every business to operate within the law, and we know that there are a few more out there to this need to serve as a warning. The sheriff has made it very clear we're going to shut down," Warren said.