'Strange World' dispute leads to heated school board meeting, calls for superintendent to resign
BROOKSVILLE, Fla. - A heated Hernando County School Board meeting went well into the night Tuesday with more than 100 people signed up to give public comment. The large turnout comes after the district has faced different controversies, including a teacher who showed Disney movie featuring an openly gay character.
The recent controversies have led school board members Shannon Rodriguez and Marc Johnson to call for Superintendent John Stratton's resignation.
Tuesday night, more than 500 parents and teachers showed up, with many in support of Superintendent Stratton with green and yellow shirts with the message,"#StrattonStays." 
RELATED: 'Strange World' controversy: Petition calls for school board member to resign amid Disney movie dispute
At the last meeting, board member Johnson made a motion to hold a vote of no confidence in Superintendent Stratton, but the board voted to table the vote 3-2 with both Rodriquez and Johnson dissenting. The vote of no confidence triggered a lot of parents and teachers in support of Stratton to show up to Tuesday night's meeting.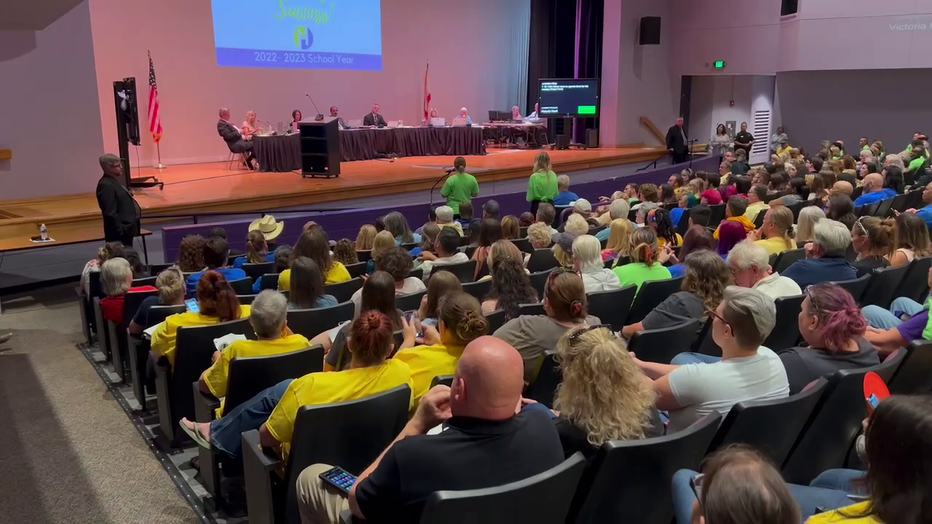 "Mr. Stratton is an amazing superintendent. Our graduation rates are up, our ESD graduation rates are up. A plethora of things. Teachers aren't in fear of him. They feel like they can go to him," parent Kimberly Mulrooney said.
Many parents and teachers have spent the last few days organizing on social media to make sure large groups of people showed up to the meeting.
READ: Hernando teacher arrested after pushing colleague during heated argument, investigators say
"After working here in this county for 33 years and been through six superintendents, I can honestly say that Mr. Stratton is for the people," retired teacher Barbara Weiss said.
Board members Rodriquez and Johnson aren't the only ones calling for Stratton's resignation. Dozens of members of Moms for Liberty and Proud Boys were present Tuesday night and are also calling for Stratton's resignation.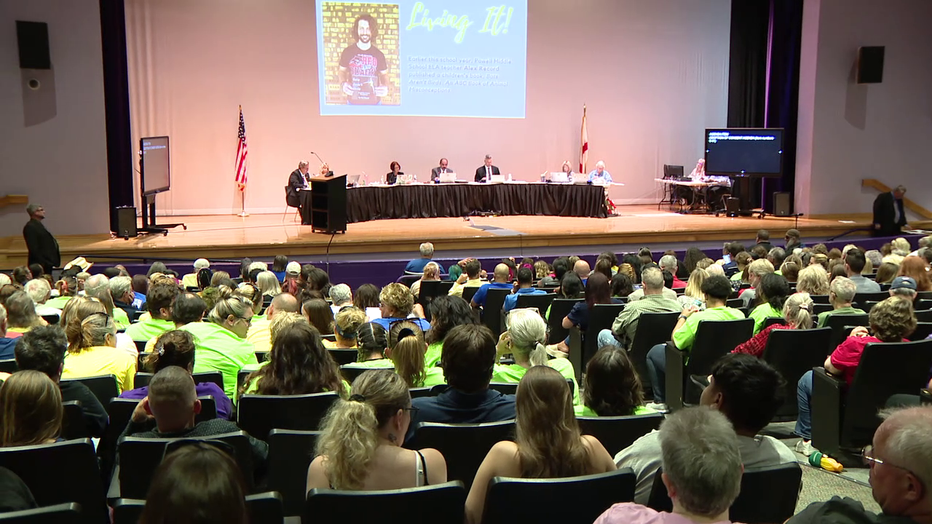 "We're supportive of Shannon and Marc. They've come in. I know she seems loud and sort of proud about what she's saying, but I believe that she has the innocence of the children's best interests at heart, the taxpayers' money," Moms for Liberty member Kathryn Birren said.
MORE: Guns confiscated from home of Hernando teacher who said she 'wanted to shoot some students': HCSO report
In a statement released Tuesday by three Florida lawmakers, including State Senator Blaise Ingoglia, Rep. Jeff Holcomb and Rep. John Temple, also called for Stratton's resignation: 
"Today, we are collectively calling for the resignation of Hernando Schools Superintendent John Stratton. It is clear to us that Superintendent Stratton has lost the confidence of parents, grandparents and our community. We can no longer sit back and allow the Hernando County school system to make national news for its poor decisions, lack of transparency and accountability, and its contempt for parental rights. Whether it is pornographic material in our schools, not notifying parents when their children may have been around an alleged pedophile, or allowing a teacher back in the classroom after threatening to kill students, it is clear to us that change is needed, and it is needed now."
The meeting went on until 2:30 a.m. 
For the second time this month, the school board has held a vote of no confidence in its superintendent, but both efforts have failed, which means the superintendent will keep his job.