TECO customers want to voice opinions ahead of proposed rate hikes
TAMPA, Fla. - Hillsborough County Commissioners wrote a letter to the Florida Public Service Commission, asking to hold meetings in local districts before approving rate hikes.
The PSC is the governing body for Florida's utility companies. Meetings are usually held in Tallahassee, making it difficult for utility customers in most of the state to get to the capital and make a public comment.
"The decisions for rate hikes are made in Tallahassee, which is not very accessible for a Hillsborough County resident," explained Brooke Ward, senior Florida organizer for Food & Water Watch. "We really feel that in order to have really a democratic process around our energy utility and the rates, that we need to have access to those proceedings."
READ: TECO reaches solar power milestone
Since 2019, the average Tampa electric bill has increased 62%, according to Food & Water Watch.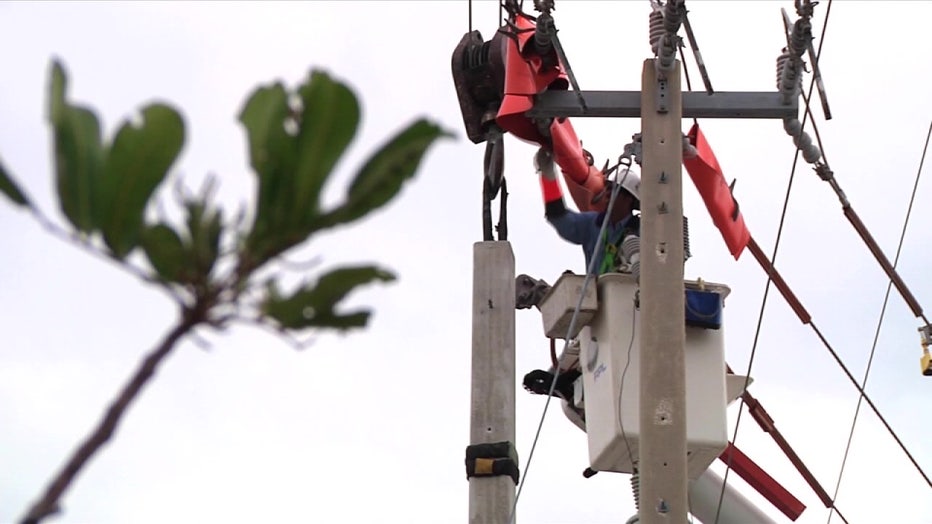 File of a man working on powerlines. 
"Suddenly their electric bills are going up or they anticipate them going up, and they basically said, please, please county commission, do something and they asked us if we'd be willing to write a letter to the Public Service Commission that controls these rates and ask them to hear them out," stated Hillsborough County Commissioner Pat Kemp. "It's important that when they have this monopoly power that people can talk back and let them know how painful and how difficult this is."