U.S. Senate contest set for November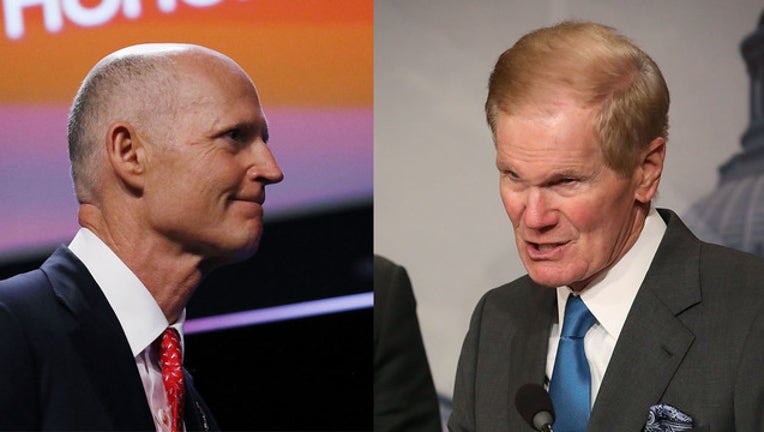 article
TALLAHASSEE, Fla. (NSF) - An already-expensive and nasty U.S. Senate contest between Democratic incumbent Bill Nelson and Gov. Rick Scott is now officially on, as Scott easily dispatched San Diego businessman Rocky De La Fuente in a Republican primary Tuesday.
Scott was up by about 80 percentage points as statewide results started to be posted on the Florida Division of Elections website.
"Thanks to everyone who voted to make me the Republican nominee for US Senate! Together, we will Make Washington Work," Scott tweeted after results were first posted at 8 p.m.
Sen. Nelson called Tuesday's primary election an historic evening for Florida, adding that it was clear to him that voters across the state were engaged and enthusiastic about this election year.
"The stakes could not be higher," Sen. Nelson wrote in a statement.  "What's at issue is the quality of our public schools, and access to health care and cleaning up the green slime fouling our waterways."
Florida Democratic Party spokesman Nate Evans wasted little time calling Scott a "horrible" governor.
"He has systemically tried to take away health care coverage for those with pre-existing conditions, slashed funding for K-12 education, and decimated key environmental protections," Evans said in a prepared statement.
National Republican Senatorial Committee Executive Director Chris Hansen called Scott a "new voice" in Washington.
"Governor Rick Scott has a proven record of creating good paying jobs and insuring that Florida is at the forefront of economic success for generations to come," Hansen said in a statement.
For De La Fuente, Florida became the latest state where his Senate dreams have been quashed. He went down to defeat in Senate bids this year in California, Minnesota, Washington and Wyoming.
Information provided by The News Service of Florida.