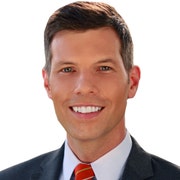 Chris Cato
Anchor & reporter
Hi! I'm Chris Cato. I anchor the FOX13 4 O'Clock News and the 11 O'Clock News. I also report major stories in the 10 O'Clock News and am the proud curator of "Only In Florida" (because – alligators). Before joining FOX13 in 2015, I worked at TV stations in Philadelphia, PA, Greenville-Spartanburg, SC, and Panama City, FL.
During my career, I have been honored with an Edward R. Murrow award, an Emmy, and numerous Associated Press awards for my reporting and anchoring. I have also made my fair share of bloopers :-)
The best thing about my job is meeting new people and discovering their stories, so don't hesitate to reach out to me on social media – or just say "hi" if you see me at a baseball game or at Publix. J  I love my job, but my favorite role in life is that of father and husband. My wife and I have a son and a dog, and we absolutely love living in Tampa. I am originally from Alabama and graduated from Troy University. I enjoy playing basketball, golfing, and fishing, but my greatest interest is probably college football. I am a huge Crimson Tide fan! I also appreciate craft beer, three-toed sloths, and Oxford commas.
Galatians 2:20
#GodIsGood #RollTide
Connect with me on social media:
https://www.facebook.com/chriscatoTVNEWS/
The latest from Chris Cato