Community gives final farewell at funeral for fallen Tampa Police Officer Jesse Madsen
LUTZ, Fla. - Exactly one week ago, Master Police Officer Jesse Madsen with the Tampa Police Department put his life on the line to stop a wrong-way driver, and Tuesday, loved ones, colleagues, and members of the community will pay their final respects to the fallen officer.
A morning procession carried Madsen to the Idlewild Baptist Church in Lutz, where funeral services were held and open to the public.
Hundreds of fellow law enforcement officers from across the state – even from out-of-state – were in attendance to honor Madsen, along with Governor Ron DeSantis. 
During the funeral service, a close friend of Madsen's called him a true American hero, someone who was selfless, and one of those people that when you meet them, you never forget them.
"Jay was a lion," said David Goodwald. "He was cut from a stone very few can comprehend or understand. He was genuine. He was the most selfless man I can honestly say I've come into contact with on my walk on this Earth. Almost everyone connected with this man loved him -- unless you were on his wrong side, he truly was a bulldog. Fierce but truly softest man ever met when you truly got to know Jay."
Mayor Jane Castor described how dedicated Madsen was to his country as a Marine and to his community as a Tampa police officer.
"As a police officer, there's no denying Jesse's impact," she said. "A go-to person, trusted, responsible, approachable, the guy you want on your side when things go south."
Madsen is tragically the 32nd Tampa police officer to lose his life in the line of duty.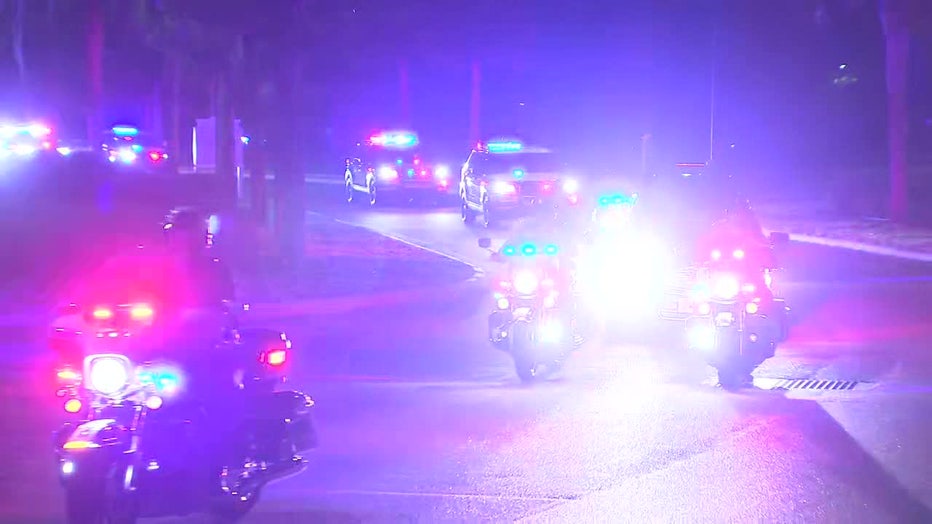 A motorcade escorted Madsen's body to the Idlewild Baptist Church on Tuesday morning.
After the services, guests were directed outside the church for a full honors ceremony, including a 21-gun salute, pipe and drums, the playing of "Taps," the riderless horse, a flyover, flag-folding ceremony, and the final radio call.
READ: Memorial patrol vehicle emblems unveiled as TPD prepares to lay fallen officer to rest
From the church, Master Patrol Officer Madsen was taken by motorcade to his final resting place in the Florida National Cemetery in Bushnell, where he received full military honors in a private ceremony. Madsen was a Marine Corps combat veteran before serving with the Army Reserves. 
Tuesday evening, law enforcement marine units from around the Tampa Bay area floated down the Hillsborough River, joining the Florida Fish and Wildlife Conservation Commission's tribute to Madsen and other Bay Area officers who lost their lives in the line of duty, including Hillsborough Sergeant Brian LaVigne and Pinellas Deputy Michael Magli.
The tribute parade began at the Platt Street Bridge and headed north on the river up to Armature Works before returning to the Tampa Convention Center. Members of the public lined the Riverwalk to pay their respects.
Governor Ron DeSantis ordered flags in Tallahassee, Tampa, Hillsborough, and Pasco counties to fly at half-staff to honor Madsen. 
PREVIOUS: Tampa officer killed in I-275 crash likely collided with wrong-way car on purpose to save others, chief says
The officer's career with the agency ended early last week when he was killed in the wrong-way crash. Investigators said the 45-year-old veered his patrol car in front of a car speeding more than 100 mph down the wrong side of Interstate 275, sacrificing his life to stop the wrong-way driver in order to save others.
"He got into this job for a reason – to help and to save lives and that's what he did," said Master Patrol Officer Ryan Agostinis, "more times than any other officer I know." 
Last summer, Madsen helped save the life of a Hillsborough County deputy who lost consciousness and was left temporarily paralyzed after he was hit in the face and neck with a bottle and chunk of concrete thrown at him by looters at the University Mall. Madsen and another officer helped Deputy William Scobie away from the chaos, into an unmarked cruiser, and on to the hospital.
"On the way to the hospital, he kept me awake," Scobie explained. "I kept almost passing out. He kept talking to me. He was asking about my kids, if I had any kids, stuff like that."
MORE: Deputy will never forget brief encounter with hero TPD officer
During Madsen's nearly 17 years with TPD, he received seven Life-Saving Awards. His friends in the department said he was well-known and well-loved among fellow officers. 
Madsen is survived by his wife and three children.
Those who wish to leave condolences, messages, or donate to the Madsen family can visit risetampa.org.