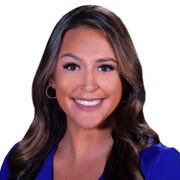 Regina Gonzalez joined the FOX 13 Tampa News team in August 2022, reporting news across the Tampa Bay area.
Regina is ecstatic to be back, telling stories in a city she considers her second home, but also in a newsroom that showed her the ropes of being a journalist, while she was in college. 
Born and raised in Long Island, New York, she ventured to the Sunshine State to attend the University of Tampa where she graduated cum laude in 2017, with a bachelor of arts in journalism, with a minor in sport management. 
While her internships took her to the sidelines of baseball fields in NY – and the streets of Spain – she never forgot shadowing the talented team of reporters, producers and staff at FOX 13 Tampa Bay. Returning full-time became her ultimate goal, and she's incredibly grateful for this full-circle opportunity. 
Before joining FOX 13, Regina helped launch and eventually anchored Fox's digital streaming service "LiveNOW." As a digital journalist, she quite literally did it all: technical directing, producing, and anchoring hours of national and international news. She covered the most memorable stories of her career including the search for Gabby Petito, the Surfside condo collapse, Russia's invasion of Ukraine and SCOTUS overturning Roe v. Wade.
Her broadcasting career officially began in West Virginia where she was a multimedia journalist and weekend anchor at WVNS 59 News. 
When she's not running around with her camera and tripod, you can find Regina at all the amazing restaurants in Tampa, spending time with her friends and family, spoiling her five dogs, running along Bayshore Boulevard or at Tampa International traveling somewhere new! 
If you'd like to reach out to Regina Gonzalez, follow her on Facebook or tweet her at @ReginaGFOX13.
The latest from Regina Gonzalez