2 North Port daycare center employees arrested on allegations of child abuse
NORTH PORT, Fla. - Two women, including one who authorities say has been fired from childcare facilities in the past, are facing felony charges in connection with suspected child abuse.
According to the North Port Police Department, a concerned mother filed a police report after discovering visible marks and bruises on her three-year-old when she picked him up from Building Blocks Children's Center on May 11. The daycare is located at 2555 Toledo Blade Blvd. in North Port.
Investigators say, Evelyn Jennings, 51, physically injured the child by intentionally grabbing the victim by his arms and legs. During the investigation, detectives said they learned that similar allegations had been made against Jennings and that she had been fired from multiple daycare facilities. 
READ: Citrus County hit-and-run victim wants travel expenses comped for testifying in Massachusetts court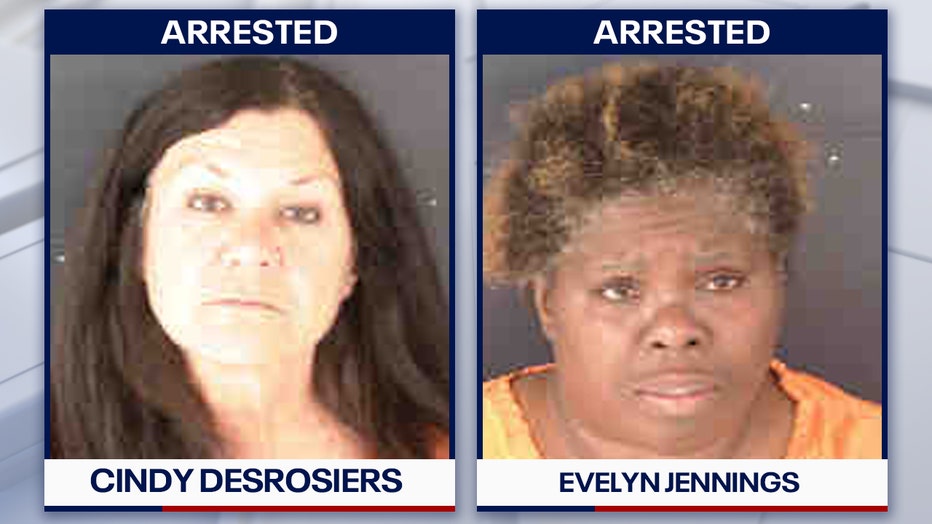 Cindy Desrosiers and Evelyn Jennings mugshots courtesy of the North Port Police Department.
"It appears to be that this was not run very well," Josh Taylor, the public information officer for the North Port Police Department said. "It's possible that people were put in positions that they weren't qualified for. Certainly, it appears that the background of Ms. Jennings is questionable at best with multiple other DCF investigations, being fired from other locations. That would be concerning for me hiring someone to be in charge of kids," he said.
Officers added that people witnessed the allegedly abuse and others, including 60-year-old Cindy Desrosiers, the daycare's director, were made aware of the situation, but Jennings was not reprimanded, and nothing was documented or reported to the Department of Children and Families. 
According to NPPD, Desrosiers was made aware of the ongoing allegations of child abuse by staff and parents. Detectives said despite being legally responsible for reporting suspected or disclosed abuse, Desrosiers did not report the incidents and prevented other teachers from making reports. 
Court documents say Desrosiers told a teacher that she couldn't do anything until she found a replacement for Jennings, and the teacher expressed fear she'd be fired if she reported allegations to DCF.
MORE: Man who shot at family barricaded inside Plant City home during hours-long stand off, deputies say
"If you are a mandated reporter, if you work with children and you know of abuse or possible abuse that's taking place where you're at, you have an obligation to let the Department of Children and Families know. And if you don't, you're going to be held just as accountable, and that's exactly what took place here," Taylor said.
Jennings has been charged with one count of cruelty toward a child; abuse to a child without great bodily harm.  Desrosiers is facing three counts of failure to report suspected child abuse as a mandatory reporter. 
"While we take all crimes seriously, one of the greatest responsibilities we have in law enforcement is helping those who cannot speak out for themselves," stated North Port Police Chief Todd Garrison. "If you hurt a child in North Port, you can count on hearing from us." 
"These aren't things that we take lightly," Taylor said. "Children and the elderly oftentimes don't speak up or they can't speak up. Part of this job is making sure that those who can't speak for themselves have a voice. Luckily, this child had a parent that was involved there, too. It's our job to go in and put ourselves in that kid's position and understand. But I can tell you we have a number of detectives and a number of people here on staff that have kids, and if there's anything that gets these guys riled up, it's that," Taylor said.
READ: Apollo Beach teen arrested for murdering man at Riverview Wawa, deputies say
Court documents say earlier this month, the toddler said he couldn't sleep during nap time and that he was hungry. The documents say the little boy said he was "smacked on the hand and butt with a 'letter thingy' by 'Miss Evelyn.'" 
When his mom, Maegan Curtis, picked him up from school the next day, the documents say she noticed bruises on his legs that weren't there when she dropped him off. He told her the teacher squeezed him and said it hurt. Curtis took a video of her son showing her how he was grabbed. Court documents say the video shows the boy laying on his back and raising his legs up in the air and squeezing each of his legs below the knee with each hand.
A Child Protection Team did a medical exam and found the bruises on his arms and legs were from physical abuse. The court documents say the boy had visible fingerprints on his body, and found that he had "multiple patterned bruises to bilateral arms and legs" that were consistent with the child being grabbed. 
Other teachers witnessed Jennings pick up a child by their arms and legs two months ago, court documents say, and described Jennings as "an angry person and that she complained about working with kids."
MORE: Hillsborough firefighter who won't recover from 'catastrophic accident' to donate organs to save others
Detectives also found that another parent told Desrosiers that Jennings grabbed their daughter by the neck in March. The director told the parents then that Jennings would be immediately fired, but never told the DCF anything, the documents say. Taylor said Jennings has now been fired.
Jennings told police the boy in the most recent incident is "rambunctious" and a tough child compared to the other children. 
North Port police said Desrosiers not only didn't report any of the alleged abuse, but she also sent Curtis a letter that told her to withdraw her son from the daycare.
"It has been brought to my attention that on several occasions you have been involving other parents on accusations that have not been proven yet. Due to that fact you are trying to undermine our school and upsetting other parents unnecessarily, we have no choice but to ask you to leave … Any further slander or harassment to my parents, business or staff will be handled in a legal matter. Sincerely, Cindy and Staff," the letter reads.
PREVIOUS: Police dogs in Florida will soon have added protection in crimes committed against them
Curtis thanked the police department and how detectives have handled the case in a statement. She said her son is now doing better.
Taylor said more charges could be coming for both women.
"We believe that there are more incidents than we are even aware of at this point. We've had a number of phone calls come in this morning from concerned parents. We've seena number of comments on our social media pages since posting the arrest," Taylor said.
The news isn't surprising for several parents, including Kristina McGill. She said a similar incident happened with her daughter a year and a half ago.
READ: MCSO: Officers shoot at convicted felon in stolen vehicle accused of running over Manatee County deputy
"I picked her up from school, and she's like, 'Mommy, please don't bring me back. Please don't bring me back. Somebody hitting me,'" McGill said. "I was like, 'okay, maybe it's like a student there.' Well, I gave her a bath, and she goes, 'This is where my teacher has been spanking me.' I said, 'Your teacher?' She said, 'Yeah.' And all up and down her back to her bottom she had bruises covered everywhere," she said.
McGill said she reported it to DCF and to the police, but they weren't able to definitively prove the teacher did it. She immediately removed her daughter from the daycare.
"My daughter will go up to you and tell you she was scared to go to school again because of her old teacher. My daughter was terrorized to go to school in the beginning and she's finally, almost two years later ok with going into school now," McGill said.
Bobbi Wilt, another mother, said she too had a similar experience eight years ago. 
MORE: SPPD: 2 arrested for murder following fatal shooting at St. Pete apartments
"We picked her up one day and … she had a black eye here, up here on her eye and then she had a cut in the middle of her head," Wilt said. "We were not notified. We didn't get a call. We didn't get an email. We didn't get a text, nothing. We didn't even get an incident report. So that was my first concern," she said. 
Wilt said she removed her daughter from the daycare immediately. Her daughter had to see an eye doctor and had neurology testing done. The daycare told Wilt that her daughter fell and hit a table, but Wilt said that doesn't make sense and she has her suspicions.
"There were two areas of the face and the head, why there was one here, and then a black eye. It looked like she had been punched and probably thrown down or something," Wilt said.
"There's probably so many more [incidents]," Wilt said.
PREVIOUS: Apollo Beach teen arrested for murdering man at Riverview Wawa, deputies say
Wilt also reported her incident to DCF.
Kelsey Krabill said she was interviewed by Desrosiers for a position as a teacher.  
"She brought me into her infant room and there were babies in the cribs while the teachers were sitting on the floor on their cell phones during hours," Krabill said.
Krabill said Desrosiers then hired her on the spot and asked if she could start the next day.
"She didn't even know my last name. There was no background check, no fingerprints, no drug test, no application to fill out. I asked her about that, and she said, and I quote, 'well, we really just need the help,'" Krabill said.
Krabill didn't take the position.
"Something about the whole interview with her just felt very off. Her willingness to just hire me on the spot without even knowing who I was as a person really bothered me," Krabill said.
Building Blocks was closed Wednesday and they haven't returned Fox 13's messages. 
NPPD says it commends all the parents who have taken part in this investigation and provided information and evidence surrounding the abuse.  Taylor said losing a daycare in North Port isn't something they take lightly, but the most important thing is the safety of children.
"You've got to use your gut sometimes. You've got to go into a place and kind of just think is this comfortable for me and my family. The problem is there is a shortage of these types of facilities for kids. North Port has the largest number of school age kids in the county, over ten, 12,000, and there's not a whole lot of options," Taylor said.
The child abuse allegations are still under investigation. Both DCF and the Florida Department of Health are continuing to look into the center. Fox 13 reached out to both agencies, specifically asking why the daycare is still open if there were so many parents who complained. They hadn't responded at the time this article was published. 
Jennings is being held on a $50,000 bond. Desrosiers has bonded out of jail. Both are scheduled to be in court for their arraignments on July 7.
Anyone with additional information is asked to contact the NPPD tip line at 941-429-7382.