Tropical Storm Eta brings windy, wet night to Tampa Bay area
TAMPA, Fla. - Tropical Storm Eta is still scraping up Florida's west coast tonight and for some areas, the worst weather has passed. Numerous tornado warnings have been issued already today and more are likely as rain bands swing through, but the biggest remaining threat will be flooding.
A Hurricane Hunter flight through Eta found sustained winds of 75 mph this morning, prompting the National Hurricane Center to issue hurricane watches for coastal areas of Florida's west coast, including Tampa Bay. Eta's winds were back down to 70 mph as of the NHC's midday update and they had only dropped to 65 mph by 10 p.m., when the storm was 60 miles northwest of Tampa.
LINK: Track Eta on MyFoxHurricane.com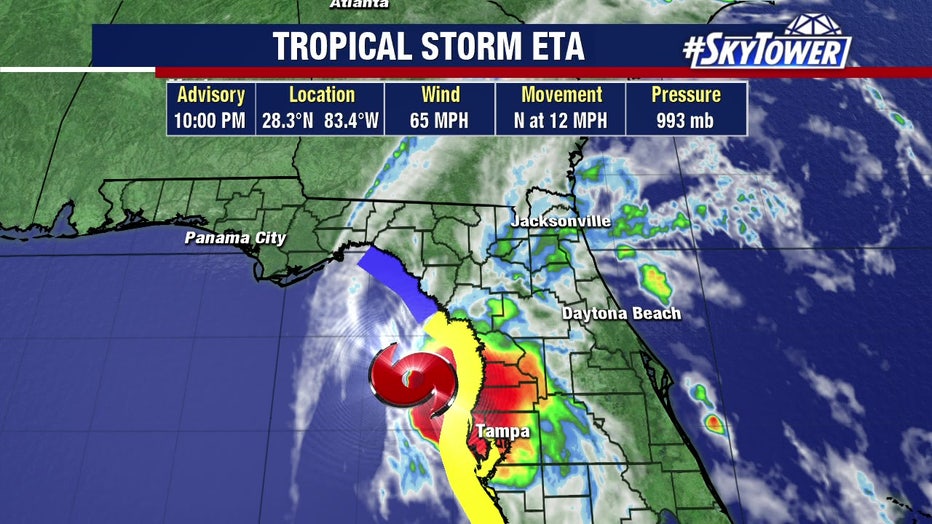 WATCHES & WARNINGS:
A storm surge warning is in effect from Bonita Beach to the Suwanee River, including Tampa Bay and Charlotte Harbor

A tropical storm warning is in effect for Boca Grande to the Suwannee River on the west coast, and the Flagler-Volusia line northward to St. Andrews Sound in Georgia on the east coast.

A storm surge watch is in effect from the Steinhatchee River to the Suwannee River

A tropical storm watch is in effect for north of the Suwannee River to the Aucilla River
No mandatory evacuations have been issued. Sandbag distribution sites opened across Tampa Bay, and many local counties closed schools or transitioned to virtual learning.
One person was killed in Bradenton Beach after being electrocuted in a home filled with water.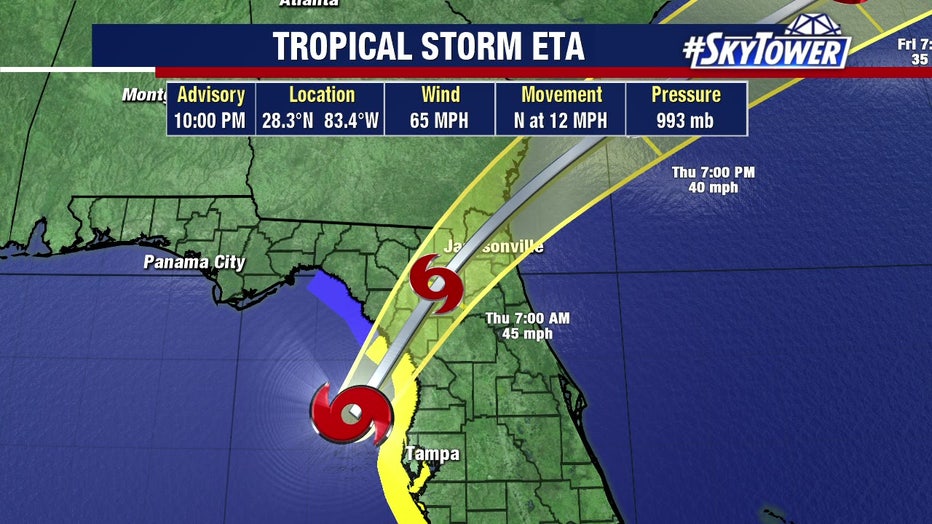 Eta closures and emergency information by county:
The Sunshine Skyway Bridge was closed due to high winds after Florida Highway Patrol troopers reported wind gusts of 50 mph. The bridge is typically shut down when wind gusts reach 40 mph.
The Courtney Campbell Causeway was closed in both directions as of 10 p.m. because of flooding, Pinellas County officials said.
Just after 12 p.m., Gov. Ron DeSantis extended his state of emergency executive order to include 21 Florida counties, including those in the Tampa Bay area.
DeSantis also sent a letter to President Trump to request an emergency declaration for Eta.
Dry air and shear will continue to weaken Eta overnight, but a significant decrease in intensity isn't expected until after the storm makes landfall early tomorrow morning.
As of Wednesday night, the worst of the wind and rain had passed north of the immediate Tampa Bay area, but some nasty rain bands were still moving through. The worst of the weather will continue to move north during the overnight hours.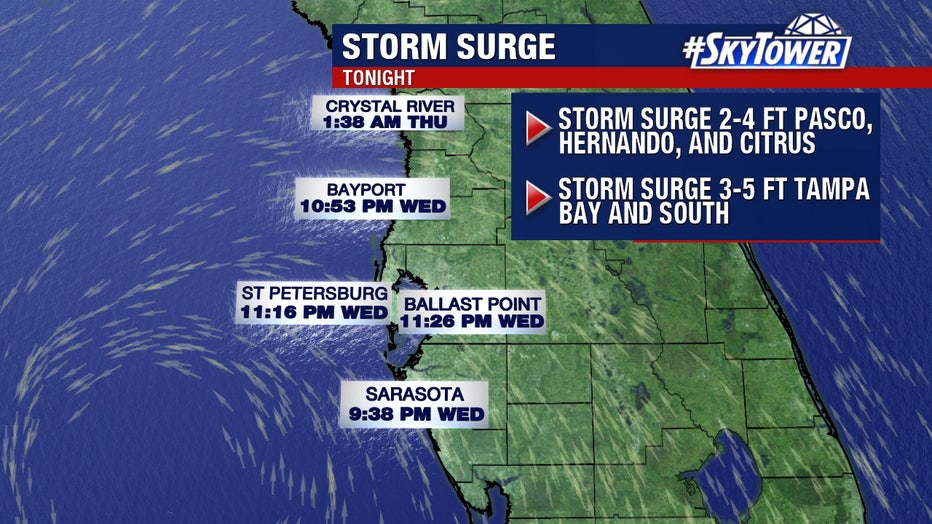 The highest winds will be along the coast, with gusts of over 60 mph possible.
LINK: Track Eta on MyFoxHurricane.com
Coastal flooding is expected, especially close to high tide tonight. Storm surge will be on the order 3 to 5 feet from Tampa Bay south to Boca Grande, with slightly lower levels up through the Nature Coast.
Water was already filling the streets of low-lying areas like Tampa's Bayshore and Beach Drive in Gulfport.
Conditions will improve across the state on Thursday.